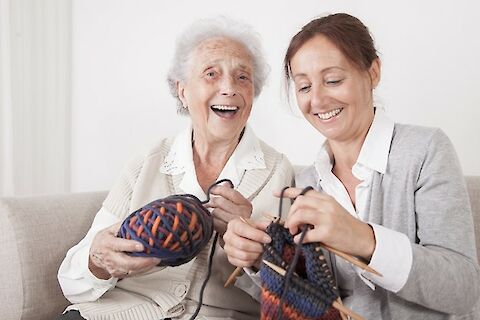 From a young age, we look at our parents like the heroes they are. They are invincible. Whatever is thrown your way, they can protect you. But as we grow older, we learn even superheroes need someone to help them. When the time comes for your parents to seek consistent senior care, you will be faced with a difficult decision of hiring a caregiver on your own or working with a company like Senior Helpers.
Finding someone you trust
When searching for a home caregiver, finding a person who can trust is vital. There will be times when you can't be there for your loved one. The caregiver you hire will be therefore around the clock care, so they should feel like family. 
When finding a caregiver on your own, you will have to determine whether the home caregiver is trustworthy on your own. This could mean asking around your neighbors in Christiana, paying for a background check, and meeting the caregiver in person for a lengthy, detailed interview. 
In contrast, when you work with a company like Senior Helpers, we do the pre-check work for you. Our goal is to provide a high-quality life for our clients, so we only hire qualified caregivers and staff that life around the Christiana area. Our trustworthy team members are passionate about working with families to meet your unique needs. 
Maintaining your professional relationship
24 hour home care is not for the faint of heart. It is difficult to work that requires passionate, consistent senior caregivers. Due to the stress of the job, live in-home care has a high turnover rate. 
When finding a caregiver on your own, you need to find someone who is dependable. Because you do not yet have a professional relationship, this quality may be difficult to ascertain at first. Similarly, you may want to have a backup caregiver on standby. If an overnight senior caregiver calls out, you don't want to be left alone. 
When working with a company like Senior Helpers, a stable professional relationship is guaranteed. Aging in place is an important part of many senior's journeys. Seeking reliable live in home care through Senior Helpers will ensure your loved one can grow old in the place they call home. 
Meeting your financial needs
One of the main draws toward finding a caregiver on your own is typically the price point. Because independent caregivers act as contractors, they can typically offer lower prices. These prices may save you money, but you are limited to the resources of the one caregiver. By using a 24 hour home care service, you are receiving the knowledge and experience of caregivers company wide. 
As a proud member of the Christiana community, Senior Helpers offers tailored services that fit your needs. From overnight senior care, to age in place, and a multitude of services in between, we help you find a caregiving relationship that not only fits your budget, but fits your family's unique situation. 
Finding consistent senior care is one of the most difficult decisions your family will have to face. With Senior Helpers, you don't have to face it alone. Serving Newark, Wilmington, New Castle, and beyond, we'll be standing by to help. Call our office at 302-232-5007 to find the best fit for your needs today.