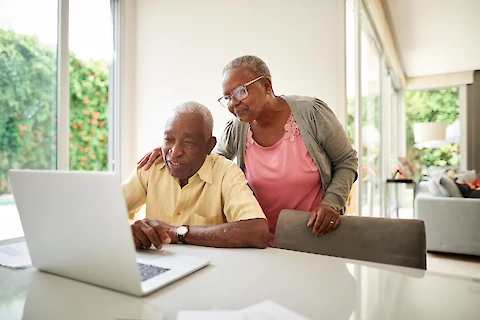 How to Avoid Senior Scams
Modern technology has progressed beyond what many seniors are familiar with. This can make them frequent targets of online, phone, and other types of scams. It's important to be aware that not every email, letter, text, or other piece of communication you receive is guaranteed to be legitimate, and scamming is easier and more common than it used to be. Here are some of the most frequent scams that target seniors, as well as tips for identifying and avoiding scams.
Common Senior Scams
Several of the most common types of scams that specifically target seniors are related to healthcare and medicine. Scammers may pretend to represent Medicare to gain access to seniors' personal information, which can be used for a wide variety of scams. They may also attempt to sell counterfeit prescription medications, fake anti-aging products, or other fraudulent services to seniors.
Seniors are also common targets of telemarketing and email scams. Many of these also pose as legitimate companies in an attempt to get social security numbers, bank or credit card information, passwords, and other personal information. Although most cell phone users of all ages have become used to receiving robocalls on a daily basis, seniors are less likely to be aware of the massive number of phone and email scams than younger generations.
Other scams are designed to target the unique needs of seniors, such as investment scams, fake sweepstakes or lotteries, or funeral-related scams that are targeted toward seniors' family members.
How to Spot Senior Scams
Many scams can look legitimate if you don't know what to look for, but there are several signs that can help you identify a scam. Online scams are often filled with spelling mistakes, sentence structure issues, and odd punctuation that emails and other online content from legitimate companies would not have. Creating a sense of urgency, such as sending a text that claims your account will be closed unless you verify your information within ten minutes, is a common tactic for convincing seniors to give out personal information without thinking about it or checking to find out if the message was legitimate. Finally, if it sounds too good to be true, it probably is. As much as you might like to believe that you won a free vacation from a contest you never entered, it's almost certainly a scam.
Tips for Avoiding Senior Scams
One of the most important tips for protecting yourself from scams is to be very careful about who you give your personal information to. Legitimate companies are unlikely to ask you to verify information for no reason or ask for your personal information during a cold call that you did not initiate. If you aren't sure, you can always contact your bank, insurance provider, or other company directly to find out if they sent a particular message.
At Senior Helpers, we care about helping residents in Christiana and throughout northern Delaware thrive during their senior years. From helping seniors recognize scams to managing medical needs and in-home care, we prioritize helping seniors stay safe and healthy in order to maintain their independence for as long as possible. Contact us today for more tips for thriving during senior years or to learn more about whether in-home senior care is a good fit for you!