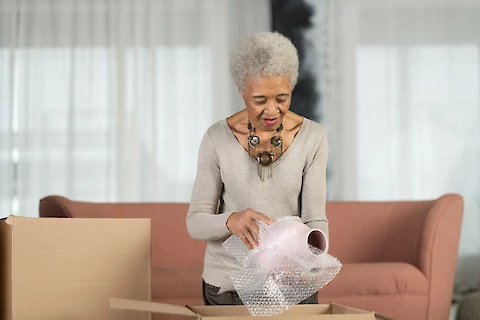 Everything You Need to Know About Downsizing for Seniors
Most of us could use a little downsizing in our life, and our seniors are no exception. There can be many reasons that your loved ones want to take a step back and get rid of some of their belongings, whether it's to move to a smaller space, increase productivity by reducing stressors, or even join a senior care facility.
For those aging in place in the Newark area, downsizing is a great option to ensure a less cluttered, more enjoyable home life. Although It can feel overwhelming at first, it's totally possible! Here are a few small steps you can take to make sure downsizing for seniors goes smoothly and quickly.
Get Organized
What exactly you do to downsize will depend a lot on the purpose for the move. If there has been a sudden death in the family or the onset of an illness, it will be important to move quickly and efficiently. However, if you have the luxury of taking things slowly, it's a great idea to start planning as far as a year ahead. This will significantly smooth the process by giving you plenty of opportunities to engage with your loved one's desires and help them adjust gradually to the changes. Either way, the first thing you should do is start making lists.
What needs to be kept?

What is ready to go?

What are you unsure about?

What can be donated?

What should be sold?

What should stay in the family but not in your loved one's home?
If possible, having your loved one's help is important in this step. You'll want to ensure that they have the things they want and need for a happy move without being overwhelmed by unnecessary items.
Measure the New Space
Wherever your loved one is headed, there are sure to be differences in terms of space and amenities. Figuring out those boundaries is an important first step for the downsizing process. Will your loved one be moving to a facility with consistent and overnight senior care? Are they getting a smaller place for themselves? Or do they just need to be closer to someone who can act as a home caregiver without having to deal with the chores associated with lawns and gardens? Whatever the case, help them pick the memorabilia and necessary gadgets to take and find ways to get rid of the rest. If there are things they don't need but still want to keep, you can look into storage facilities in the area so you can hold onto things for the long run.
Keep Track of Paperwork
One of the first things to get lost in a move is all the important but relatively innocuous paperwork. You shouldn't go through it all before the move, since that will only end up wasting your time in stressful sidetracks. Determine what is worth keeping, shred what isn't, and put the rest in a safe, labeled, well-protected place. A sturdy box or a safe would both be excellent choices. There is some paperwork you'll need to use during the move too, such as forms for an address change and a new P.O. box, information on local amenities and social groups, and insurance information. Make sure you keep those available and easily accessible.
Settle In
The most exciting part of moving is settling into a new home. Try to make this fun for your loved one by helping them redecorate and organize effectively. If they are in a senior care home, make sure you help them get acquainted with staff and residents. If they are simply downsizing to create more room for themselves and their caregivers, help them make sure everything is in a visible, convenient space to improve efficiency. The most important part is to make sure your loved ones enjoy the process and are happy in the new space that has become their home.
Downsizing is a natural part of aging, and it can be a great experience for seniors. Helping your beloved seniors move into a smaller, sweeter space is a wonderful first step in helping them enjoy their later years to the full.
If you need extra help with senior companionship and helping them build fulfilling and productive lifestyles, we're here for you. At Senior Helpers in Christiana, we proudly serve families in Newark, Wilmington, New Castle, Hockessin, Bear, and Christiana. Contact us to learn more about how we can be of assistance.