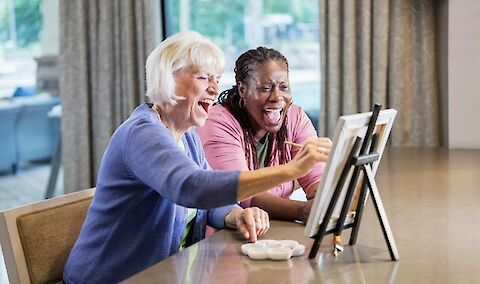 Art, music, and joy are essential ingredients for a fulfilling and happy life. No matter how old we are, it's important to fill our days with activities that enrich our souls. Unfortunately for some older adults, it doesn't seem easy or accessible. That said, it is critical for seniors to stay engaged in activities and feel companionship to maintain a high quality of life and independence.
Because of the health standards necessary to prevent the spread of COVID-19, local and national centers for the Arts are more accessible than ever. A professional caretaker can provide companionship and help make enrichment activities possible in the lives of many seniors. Regardless of if they are virtual or in person, the arts are better enjoyed with good company and Senior Helpers of Northern Delaware caregivers (serving Newark, Wilmington, New Castle, and beyond) are just that.
Here are just a few examples of the benefits of companionship and enrichment activities for seniors in Northern Delaware:
Delaware Art Museum
The Delaware Art Museum has a wide variety of virtual programs. From sneak peeks into exhibitions held via Zoom to virtual book clubs to virtual art events, your family member can still experience culture from their own home.
Studies have found that participating in the arts can help with healthy aging. Art can help older adults enjoy their lives, as well as increase cognitive function, memory, self-esteem, and can help your loved one feel independent.
The Kennedy Center
We no longer have to live near a concert venue to experience world-renowned musicians, because virtual events now allow access across the globe. The legendary John F. Kennedy Center for the Performing Arts in Washington, DC has hosted extraordinary musicians, and now your Senior Helper can aid your family member in accessing these treasures. The virtual stage offers a host of extraordinary performances – with new releases daily – including classical and contemporary music, dance, artists, and more.
In 2018, the Kennedy Center hosted a panel with the National Institutes of Health about the effect of music on the brain. Panelists discussed how engaging with music may help with age-related cognitive decline, as well as improve quality of life.
In 2020, COVID-19 increased stress in the lives of seniors particularly. The silver lining is that it has also opened the doors to virtual involvement in the arts for you and your loved ones. This provides opportunities to experience fine art and music in ways that will also improve wellbeing, cognitive function, and happiness.
And for those living in Newark, Wilmington, New Castle, and the surrounding areas, Senior Helpers of Northern Delaware caregivers are standing by to help. Contact us today to learn more about being matched with a companion.