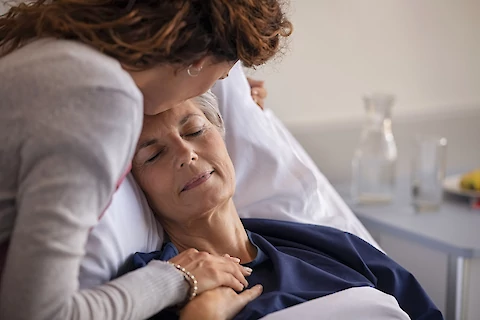 Caregivers for elderly loved ones have a lot on their minds. One thing that makes them nervous is the thought of catching the flu and passing it on to their senior parent. It's one thing to be sick and in bed for a day or two. It's quite another thing to take care of a person over the age of 65 who has the flu. Immune systems weaken over time, so catching the flu is easier and the effects of the flu last longer. To safely get through the flu season in Northern Delaware, follow these tips for minimizing the risk of getting sick.
1. Get a Flu Shot
The flu is very easy to transmit from person to person, which means if a caregiver picks up flu germs while shopping, it is quite likely that those germs will spread to the seniors they take care of. The most effective way to prevent getting the flu is by getting the flu vaccine. Find a clinic or pharmacy in Newark, Wilmington, or Bear, Delaware to get a flu shot. Many places give them for free and may or may not require an appointment. It is important for both the caregiver and the senior citizen to get vaccinated.
2. Wash Hands Often
Caregivers are hands-on people! Think of all the things you need to touch throughout the day, from silverware and water glasses to door handles and TV remotes. Caregivers also touch other people, and that means there is a lot of opportunity for germs to spread from person to person. Get into the habit of washing or sanitizing your hands often, even if they don't look or feel dirty. The length of time and the amount of rubbing does matter, so wash those hands a full 20 seconds and rub them together, getting all parts clean.
3. Sanitize Mobile Phones
Mobile phones pick up a lot of germs because they get touched frequently throughout the day. Use a sanitizing wipe to clean all surfaces of the phone to remove germs that could easily spread to other things and people you touch. Don't use anything that is dripping wet to clean the phone because that could damage it. 
4. Avoid Sick People
Social distancing may be a habit for both the caregiver and the senior loved one, and it's a good habit to keep up throughout Northern Delaware's flu season. It would be ideal if all people who had the flu stayed at home away from healthy people, but that doesn't always happen. Try to keep your distance from others, and avoid entering crowded places.
5. Maintain Healthy Eating and Drinking Habits
Healthy eating helps bodies fight disease. That is why it is vital for caregivers to give themselves the proper nutrition they need all year long. This includes eating enough fruits and vegetables as well as getting enough protein through meats, fish, and nuts. Staying hydrated is equally important. Whether you follow the 8x8 rule (eight 8-oz. glasses of water a day) or sip on water throughout the day, your body needs that water to stay healthy, fight off sickness, and heal itself when it does get infected.
Eating and drinking healthy foods is necessary for both caregivers and seniors. Caregivers who want specific dietary advice for their senior loved ones should ask a healthcare provider.
Get Help Caring for Your Senior Loved Ones with Senior Helpers Northern Delaware
Staying healthy during the flu season can be tricky, and if you need in-home care for your senior loved ones, Senior Helpers Northern Delaware is here to help. We have trained staff willing to give your loved ones the assistance and companionship they need throughout the day. Learn more about how Senior Helpers can help you in Newark, Wilmington, Bear, and throughout New Castle County, Delaware.