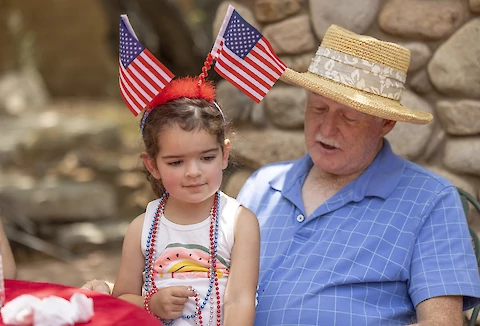 Memorial Day is a special time to remember and honor the brave men and women who have served our country. For many families, this day holds great significance as they pay tribute to senior family members who are veterans or the surviving spouses of veterans. 
This year's Memorial Day offers another opportunity to show your appreciation for your loved ones. The following are just some of the Memorial Day activities you can do to support and connect with veterans and pay tribute to the ones you have lost.
Reflect on Memories
One of the best ways to pay tribute to your loved ones is to create meaningful and lasting memories. Take the time to share family stories and memories, either by reminiscing together, creating a family tree, or even putting together a scrapbook. These activities not only honor your senior family member but also preserve their stories for future generations. 
As part of your Memorial Day activities, talk about loved ones who served and the sacrifices they made. You can also make copies of photos to put in scrapbooks. By remembering the fallen, you not only pay tribute to their memory but also offer support to your living relatives. 
Share a Meal Together
Cook a special meal or have a picnic that includes your loved one's favorite foods. Sharing a meal together is a great opportunity to talk about loved ones who served in the Armed Forces, including sharing memories of their time in service.
Celebrate Fallen Heroes
Consider visiting a local cemetery or memorial site together to pay your respects to the fallen heroes who have served our country. Display photos and memorabilia at home as well to start conversations and elicit fond memories.
Make a Donation
If you're looking for a more lasting and far-reaching way to honor your loved one, consider making a donation to a veterans organization in their name. This act of kindness will not only support a cause close to their heart but will also make a positive impact on the lives of other veterans and their families.
Seek Out Local Opportunities
When it comes to local events and activities, there are plenty of opportunities within the Dover, Middletown, Seaford, Georgetown, and Lewes communities to pay tribute to senior family members. Start by attending a Memorial Day parade or ceremony, where you can show your appreciation and support for veterans in a public setting. Visiting local veterans' memorials and museums like the Air Mobility Command Museum can also provide a chance to learn more about and reflect upon their service and sacrifices.
Don't forget to participate in community events or volunteer opportunities dedicated to honoring veterans. Check your local newspapers and websites for additional events, as these will not only bring your family together but also connect you with others in your community who share your appreciation for veterans.
Connect with and Support Your Veteran Loved Ones
Memorial Day is an important opportunity to pay tribute to our senior family members who are veterans or surviving spouses of veterans. By showing appreciation through shared memories, local events, and acts of support, you can create meaningful experiences and lasting connections with them. 
If you are in need of assistance at home due to the declining health or physical capability of a senior loved one, contact Senior Helpers Dover DEfor compassionate and professional care in the Dover, Middletown, Seaford, Georgetown, and Lewes areas.