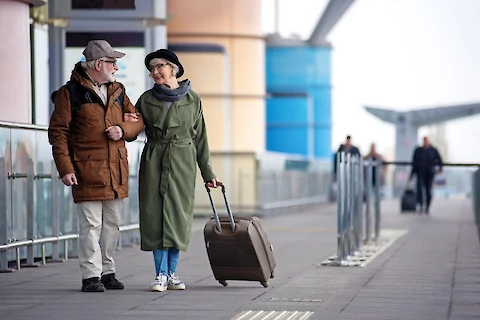 How Travel Insurance Policies Protect Seniors While Traveling Abroad
Traveling abroad can be an exciting and rewarding experience. It offers the chance to explore new places and cultures and discover a range of new experiences. For many seniors, travel is a key part of making the most out of their retirement years. While they are away from home, however, it is critical that seniors have the necessary protection in place so they can enjoy their trips without any worries or concerns. This is where travel insurance policies come into play.
What is Travel Insurance?
Travel insurance is a type of insurance that covers unexpected events or losses while you are traveling. It can include coverage for medical expenses, cancellations, lost or stolen baggage, and more. Travel insurance can provide peace of mind and financial protection for many of the events that can occur when traveling.
Popular Types of Travel Insurance Policies
Travel insurance policies come in a variety of forms and can be tailored to a senior's individual needs. An insurance provider or travel agent can help guide seniors through the available types of insurance and how they can benefit them. 
Trip Cancellation Insurance
Trip cancellation insurance covers any non-refundable trip costs in the event that seniors are unable to take their trip due to unforeseen circumstances. This can include weather-related issues, illness, or even a death in the family. With this type of policy, seniors will receive reimbursement for any unused airfare or other prepaid expenses associated with their trip.
Medical Insurance
Sometimes, personal medical insurance might not provide coverage while a senior is traveling abroad. This could leave them in trouble in the event of an emergency. Travel medical insurance covers the cost of any medical treatment seniors may need while traveling. This includes coverage for hospital stays, doctor visits, emergency care, and prescription drugs. It can also cover evacuation back to their home country if necessary. 
Baggage Loss/Damage Insurance
Losing luggage can quickly turn a dream trip into a nightmare. Baggage loss/damage insurance covers the cost of any lost or damaged luggage seniors may incur during their trip. This can include items that are stolen, lost in transit, or damaged due to mishandling. Having baggage loss/damage insurance can make it easier to replace damaged items, including items seniors may have to replace on the fly.
The Benefits of Travel Insurance
Having travel insurance helps smooth over many of the challenges that can crop up during a trip.
Peace of Mind
Travel insurance provides immense peace of mind, letting seniors know that they're covered no matter what happens during their trip. They can rest assured that any unexpected costs or losses will be taken care of. They also won't have to worry about being out of pocket for those additional expenses. 
Financial Protection
For many seniors, an unexpected emergency while traveling can prove financially catastrophic. Travel insurance, however, helps provide financial protection that can be essential for seniors on a fixed income or with limited funds available. It helps to cover the cost of any unexpected medical bills, trip cancellations, or physical losses that may occur during their travels. 
24-Hour Assistance
Finally, many travel insurance policies come with 24-hour assistance services. This means that seniors can call a representative at any time of day or night if they need help with anything related to their trip. This could include things like finding a doctor or getting emergency cash in the event of an unexpected problem.
Senior Helpers Can Provide Peace of Mind at Home
When you're home from your travels, you may find that you miss the support and care that you can get on cruise ships, in hotels, and more. For seniors in Danbury, New Milford, Newtown, Fairfield County, and Litchfield County, Senior Helpers Danbury can provide in-home support, companionship, and more.
Contact us today to learn more about our services.