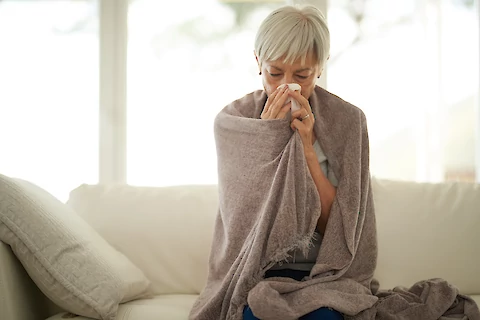 Winter is here, with bone-chilling wind, snow flurries, and dropping temperatures, especially here in Danbury and the surrounding area. The holidays are also in full swing, meaning people are gathering together for festivities and fun despite the plunging temperatures. These factors and many others can contribute to your senior catching a cold or flu during this busy season. That being said, there are things that seniors can keep in their homes to help them stay well during this cold and flu season. Take a  look at some of these necessary items that seniors should have in their homes to help them stay well and healthy.
Lots of Liquids
It is always important, but especially during cold and flu season, to drink liquids. Drinking extra fluids can help your senior to stay hydrated, fight illness, and recover faster. Items like coffee, tea, juices, and especially water can work wonders in helping your senior's body stay hydrated and healthy during this season. Some items, such as soup, count as both food and liquid. Chicken soup is one of those home remedies that have a multitude of health benefits. According to WebMd, chicken soup can help clear nasal congestion, ease cold symptoms, and provide vitamins (through vegetables and chicken). Furthermore, steam opens your senior's airways which in turn, helps their breathing.
Cleaning Supplies
Making sure that your senior's home is tidy and clean can make a big difference. Cleaning supplies such as disinfecting wipes, bleach sprays, and antiviral sprays, can help achieve that. Many surfaces, like light switches, doorknobs, and even mobile devices require a good wipe-down periodically. A good wipe-down will kill any disease-causing pathogens and also have the added benefit of keeping things smelling good. 
Extra Vitamins
Vitamins such as Vitamin C and Vitamin D can help strengthen the immune system, especially during the winter months. Vitamins can help ensure that your senior receive a better chance at proper nutrition through additional supplements. Taking these vitamins is necessary to prevent your seniors from catching any illness. If they do happen to catch something, it will help them recover faster.
Puzzles and Games
One of the most important items for your senior to have in their home during the winter season is games, cards, and puzzles. These attention grabbers will help keep your senior loved one entertained and engaged inside the home despite the weather conditions outside. Furthermore, games that require multiple players to play give your senior a chance to interact with others in their community without having to go out and be exposed to large groups of people. 
Things Seniors Should Keep in Their Homes During Cold and Flu Season
Winter is upon us and with it comes cold and flu season. This season can be quite a challenge, especially for your senior. That being said there are items that you can employ to help your senior through winter. Lots of liquids, handy and ready to go, can help keep your senior hydrated and feeling better. A bounty of cleaning supplies is another item that is good to have as it helps disinfect the whole house. Extra vitamins, such as Vitamin C and Vitamin D can help strengthen your senior's immune system. Last but not least, puzzles, cards, and games are great options for entertainment. Senior Helpers of Central Fairfield County, serves the Danbury, New Milford, Newtown, Fairfield County, and Litchfield County areas. Contact us today to learn more about how our aging-in-place services can help your seniors stay healthy during the flu season.