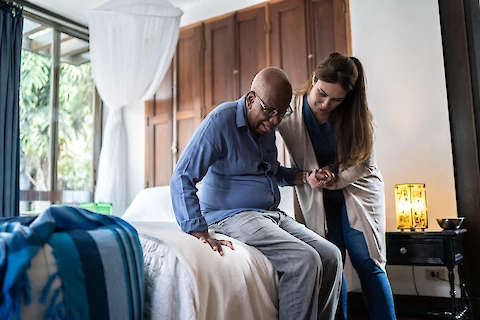 Caring for seniors after an accident has occurred can be a challenging process. It's important to acknowledge the deep commitment caring for a senior requires of caregivers so they can prepare in advance to better serve their aging relatives during this difficult time.
By following the advice outlined by Senior Helpers Danbury, providing safe and compassionate care is possible. This can also help minimize stress on all individuals involved in caring for seniors after an accident has taken place.
Schedule Day-to-Day Tasks When Caring for Seniors After an Accident
Scheduling multiple tasks throughout the day can help caregivers manage their own responsibilities and provide a sense of stability to an otherwise uncertain situation. It helps ensure that required personal care needs are met, such as bathing or dressing, while meeting other obligations like organizing medications and meals.
Schedules should be created not just for seniors receiving care, but also for any other parties assisting in the process. This way, everyone is on the same page when it comes to providing quality senior care. Consider utilizing scheduling apps and calendars, so that you can keep track of appointments and tasks as they come in. This will help to keep caregivers from forgetting important tasks!
Provide Emotional Support
Going through any major life event such as an accident can be traumatizing. It can also take a physical and emotional toll on both caregivers and the individuals who need care. Taking time to nurture relationships between seniors and their families is essential in providing comforting support during this difficult period.
Showing appreciation for their efforts or offering meaningful words of encouragement can go a long way. This, in turn, can help seniors affected by the accident cope with the transition. You can also ask how they feel about therapy. Sometimes, talking to professionals trained in trauma therapy and recovery can be beneficial when caring for seniors after an accident.
Connect With Doctors and Medical Professionals
It's important to stay informed and on top of medical needs from specialist professionals in the event that a senior has suffered an injury or medical condition following their accident. Try connecting with home care services, therapists, dietitians, and primary health physicians. This will help ensure therapeutic goals can be met safely and effectively. This also provides additional resources to better attend to any symptoms or ailments that may arise during the recovery process that requires professional assessment or treatment.
Senior Helpers Offers Encouragement and Assistance
Caring for seniors after an accident has occurred can admittedly be difficult. However, there are several resources available to help make this transition an easier and more manageable process. With proper support and planning, caregivers will have the necessary backing to ensure seniors receive the best quality of care during this life-changing event.
If you want some help taking care of a senior loved one in the Danbury, New Milford, Newtown, Fairfield County, and Litchfield County areas, reach out to Senior Helpers. Contact us today to learn more about our services.