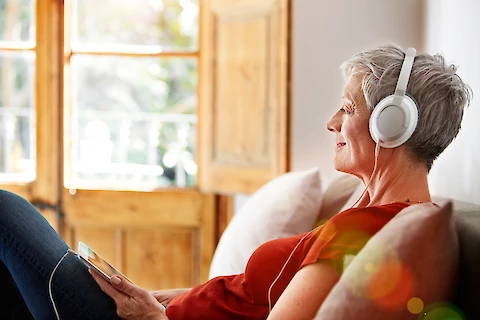 Are you always on a quest for new things to read or explore, no matter what stage of life you're in? If yes, read on! We're here to introduce you to a rapidly growing trend: audiobooks. With an increasing number of people swapping their hardcovers and paperbacks for headphones, it's time to see what the fuss is all about. There are numerous benefits to uncover that make audiobooks worthwhile for seniors. They're truly a game-changer in many ways.
Benefits of Audiobooks for Seniors
Audiobooks are a fantastic choice for seniors for several reasons, and convenience tops the list. Gone are the days when you needed to carry a hefty book around or find the perfect lighting to dive into the world of reading. With audiobooks, you can enjoy a heartwarming story or a thrilling mystery while lounging in your favorite chair.
Do you want to read while walking? Audiobooks work for that, too! In fact, you can even listen while tackling your chores. They cater to the fast-paced world we live in, where multitasking is often the need of the hour.
Accessibility
Audiobooks also make reading accessible to everyone. If your eyes get tired easily or if you have a visual impairment, holding and reading a book might feel strenuous, if not impossible. It's the same for those with physical limitations that can make holding a book difficult. But, with audiobooks, these barriers are eliminated. All you need to do is press 'play' and let the words flow. It's as simple as that.
Mental Stimulation
The benefits of audiobooks extend beyond convenience and accessibility. They're also a fantastic tool to keep your mind sharp and your spirit entertained. For many seniors, audiobooks can provide crucial mental stimulation. They offer new knowledge, let you travel to different eras and locales, and provide experiences that might not be possible otherwise.
Platforms for Audiobooks
If you're wondering where you can get your hands (or rather, ears) on an audiobook, worry not, plenty of platforms offer a diverse range of audiobooks for seniors. Services like Audible, Google Play Books, Scribd, and LibriVox have extensive collections of audiobooks from various genres and authors. These platforms are fairly easy to navigate, and you can use them on your computer, smartphone, or tablet.
Most of these services offer free trials as well, allowing you to explore and find out if audiobooks are your cup of tea before you take on a paid subscription.
Connect With Senior Helpers Danbury
Audiobooks truly provide seniors with a convenient, accessible, and entertaining form of reading. They break down barriers that might have prevented some seniors from enjoying a good book and open up a world of possibilities. Whether you're an avid reader or someone looking for a leisure activity, give audiobooks a try. You never know, you might find your next favorite book in audio form!
And remember, if you live in Danbury, New Milford, Newtown, Fairfield County, or Litchfield County, our team at Senior Helpers Danbury is here to assist you in exploring the wonderful world of audiobooks. We're committed to helping you live life to the fullest, throughout your senior years. Contact us today so we can get started. Happy listening!