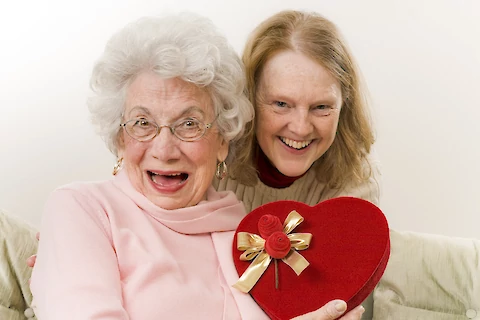 Valentine's Day is the perfect opportunity to show your elderly parents all the joy they bring to your life. Shopping for them can be a challenge, however, since it can be hard to know what type of gift they would like or find helpful. In this blog post from Senior Helpers Greeley, you will find popular gift ideas as well as personalized gifts and home decorations that are sure to put a smile on your loved one's face this Valentine's Day. 
Popular Gift Ideas for Elderly Parents
Every senior is unique and will appreciate different things. Still, there are a few gifts that have become really popular for a reason, such as flowers, chocolates, and gift baskets. Here are a few great gift ideas for your senior loved one, including some gifts that are quick and easy to put together.
Personalized Gifts
Your elderly parents are special, and your gift should reflect that. Personalized gifts can mean a lot to seniors as they remind them of how much you care about them. Here are some ideas for personalized gifts:
Photo books with pictures of the family or grandkids.
A framed photo of a favorite place, person, or event.
A personalized blanket or pillow with their name on it.
A meaningful piece of jewelry such as an etched necklace or pendant.
Home Decorations
One of the best ways to show your love and appreciation is through decorations. Personalized decorations or home decor can add a special touch to your senior's home that they can enjoy all year long. Make sure to take your senior's tastes and preferences in mind when choosing a decor gift. You want to make sure that your loved one will really want to display their new treasure! Here are some ideas for home decor:
A clock with the family name engraved.
A wall art piece, like a landscape painting of their favorite place or an old photo.
A special keepsake box to store trinkets from past events.
New furniture for the living room or bedroom.
Experiences
You can also give experiences as gifts for your elderly parents. Experiences create wonderful lasting memories that they can cherish forever. Here are a few ideas: 
A special outing together, like a day trip or picnic.
Tickets to their favorite show, play, or concert.
Couples massage at the local spa.
Lunch in an upscale restaurant they've never gone to before. 
Give the Gift of Premium Care Services
Making Valentine's Day special for your elderly parents does not have to take a lot of time or cost a lot of money. With these gift ideas from Senior Helpers Greeley, you can find the perfect gift that expresses your love and appreciation this holiday season. From personalized gifts to experiences, there is something for everyone! If you are interested in premium senior care services in the Fort Collins, Loveland, Greeley, Wellington, Windsor, Estes Park, and Longmont areas, Senior Helpers us here for you. Contact us today!