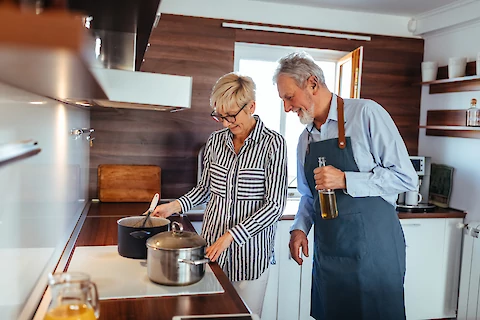 Slow Cooking 101: Easy Healthy Meals for Busy Retirees
Are you looking for quick, healthy meals without spending hours in the kitchen? For busy retirees, cooking quality meals while maintaining an active lifestyle can be a challenge. Slow cooking is one of the best ways to ensure you're eating healthy meals without standing over the stove.
Read on to learn the benefits of slow cooking and a few healthy recipes you can try. 
Overview of Slow Cooking
Slow cooking is a method used to cook food slowly over a longer period of time. With this cooking technique, flavors become infused gradually while simmering food on low heat. Slow cooking is ideal for soups, stews, sauces, and more. 
There are also several benefits of slow cooking. For starters, it provides minimal preparation. This means that busy seniors spend less time in the kitchen and more time focused on activities they enjoy. 
A slow cooker is also one of the best ways to bring out flavors in your meals. Slow cooking allows all the ingredients to simmer together at a low heat, allowing you to seamlessly achieve more flavorful meals. Slow cookers are also energy-efficient and more affordable compared to buying conventional toaster ovens and boilers.
3 Easy Healthy Slow Cooker Recipes to Try
Here are three simple and healthy meals to try with a slow cooker:
Chicken Pot Pie
One classic recipe to try in your slow cooker is a modified Chicken Pot Pie. The traditional version uses pie crust. But the healthier alternative omits the crust and is ideal to make in your slow cooker.
Chicken Pot Pie soup is creamy, flavorful, and a perfect comfort meal. Your pot pie will include standard ingredients like chicken broth, salt, and pepper. But you can also put any additional preferred seasonings to bring a new taste to your soup.
Pot Roast
A traditional dish made with a slow cooker is pot roast. Pot Roast with veggies isn't just a great dish to eat on a chilly day, it's also a healthy meal packed with protein.
What's even better is that pot roast requires little to no work when a slow cooker is involved. All you need to do is include all of your ingredients and allow the slow cooker to tenderize the meat and infuse all those flavors.
Thai Chicken Curry
Interested in trying some ethnic foods? Consider cooking a Thai Chicken Curry. The main ingredients for this dish are fish sauce, curry paste, and chicken. But most people also add a few vegetables for more flavor.
You can experiment with any vegetables that won't get too soft from being in the slow cooker. A few vegetables you can consider are broccoli, cauliflower, and root vegetables. Once you've had a taste of Thai Chicken Curry, you'll become amazed at how many flavors come out of this dish. 
Senior Helpers Denver North: Provides In-Home Care for Older Adults
Senior Helpers Denver North is a provider of in-home care for seniors in Denver, Broomfield, Arvada, Westminster, Thornton, Northglenn, Wheat Ridge, Lafayette, Aurora, and Commerce City. We offer tailored services from companion care to in-depth specialized care for seniors living with a chronic disease. Contact us to learn about our services in more detail.