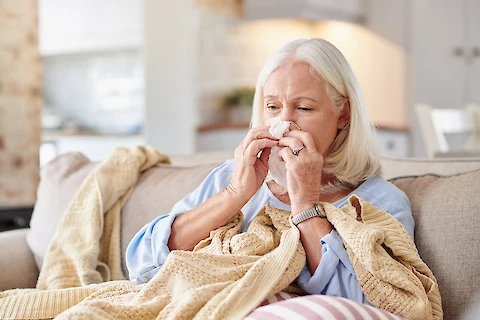 How Long Does It Take Seniors to "Get Over" a Cold?
Flu, colds, and other respiratory illnesses are common during colder months like November and December, the season for various festive holidays like Thanksgiving and Christmas. During these holidays, people are often indoors, which creates a conducive environment for the flu virus to pass around.
Respiratory virus infections can cause mild to severe symptoms. While some people recover within a week, others, such as seniors, may be at a higher risk of life-threatening complications. The risk of complications increases in adults over 65 due to a weaker immune system, making it harder for the body to fight off the virus.
Is it a Flu or a Cold?
Flu and cold are often used interchangeably to mean contagious respiratory tract infections. However, they are caused by different viruses. The flu only results from exposure to influenza viruses, while the common cold is caused by other viruses such as para influenza, seasonal coronaviruses, and rhinoviruses. This does not include seasonal coronavirus with SARS-CoV-2, which causes COVID-19.
Both cold and flu have shared symptoms, making it challenging to distinguish between them based on their symptoms. However, one main difference is that the common cold's symptoms are usually milder than the flu's symptoms.
Flu or the Common Cold Among Seniors
Any respiratory infection among adults over 65 can be critical, as their immune systems don't fight off viruses or pathogens as effectively as before. Generally, flu or cold can develop between one and three days after exposure but subside within a week. However, the infected person may have a lingering cough or feel tired for several days or weeks after recovery.
The recovery period in seniors depends on their overall health and lifestyle. For example, people with chronic conditions like asthma can have intensified symptoms several weeks after the cold symptoms are resolved.
Therefore, during the cold season, it's essential to keep seniors away from people who show cold symptoms, like coughing, runny nose, or congestion.
How to Prepare and Prevent Colds and Flu
The best way to prepare for cold or flu in seniors is to:
Be strict with hand-washing
Stock up on supplies such as blankets, supplements, masks, soap, hand towels, and hand sanitizers.
Disinfect all surfaces to keep the germ and bacteria-free
Fill the fridge with easy-to-make foods, including healthy comfort foods like chicken soup.
Seniors often need more care when dealing with viruses, as they can lead to complications such as ear infections or pneumonia. Prevention is the best approach to avoid flu complications.
Although everyone should consider getting a flu vaccine, it's more crucial for seniors. The doctor will give a vaccination designed for people in this age group. Flu vaccines for seniors have four times more active ingredients than a regular flu vaccine to provide a better immune response. Since the seasonal flu virus changes yearly, it's recommended that seniors should receive new flu shots each fall.
Receive Personalized Care at Senior Helpers
Senior Helpers is a leading provider of premier home care services to residents in Denver, Broomfield, Arvada, Westminster, Thornton, Northglenn, Wheat Ridge, Lafayette, Aurora, and Commerce City.
We provide various tailored home care services to individuals who require home care services. Our services include chronic disease care, personal care, respite care, and wellness watch. Contact us today to receive personalized home-care services or find meaningful work for a great company.