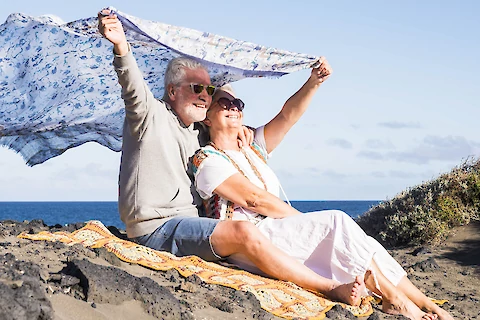 Traveling is a great way for seniors to enjoy the sites and experience culture away from home. But, there's always the risk of health problems when you travel, so taking some extra steps to prevent illness is key to having a safe and enjoyable trip. In this blog post, we'll talk about our top travel tips for preventing seniors from getting sick while on vacation.
Avoid Unhealthy Foods
The food seniors eat on vacation can have an impact on their overall health. With this in mind, seniors should take special care to stay away from certain unhealthy or risky foods. For example, raw and undercooked meats, unpasteurized dairy products, and food exposed to added preservatives like MSG. Eating small meals often is a great way to help avoid getting sick as well.
Drink Plenty of Water
Staying hydrated is important for anyone of any age. However, it's especially essential for seniors to make sure they get enough fluids each day. In addition to staying well-hydrated throughout the day with water, avoiding beverages such as soda and energy drinks can help prevent health problems during travel.
Get Adequate Rest
Rest is an essential part of having a safe and enjoyable trip. Allowing oneself ample rest, such as getting seven to eight hours of sleep each night and taking occasional naps during the day, can help seniors stay alert and energized throughout the trip without compromising their health.
While traveling can be exciting, seniors should always do their best to stay in tune with their feelings. If they feel as though they are getting worn out or overly tired, they should take a break. This could mean resting in their hotel room for a few hours, getting some extra sleep at night, and getting a later start the next morning.
Take Steps to Avoid Illness During Travel
It's always a good idea to take necessary precautions when traveling. Carrying over-the-counter medications, such as antacids and antihistamines for potential sickness issues, is an easy way to be prepared if any issues arise while on vacation. Taking steps like regularly washing hands with soap and water or using hand sanitizer helps minimize the spread of germs while out in public places. Seniors can also opt to wear a mask in public settings if it makes them feel more comfortable.
Senior Helpers Provides Premium Senior Care
A vacation should be an enjoyable time! With the right precautions, seniors can have the safety, peace of mind, and health to make their vacation a success. Keeping these travel tips in mind can help prevent seniors from getting sick while on vacation.
If you are looking for more travel tips or need additional home care support for your loved ones, Senior Helpers Denver North is here to help! We serve senior adults in the Denver, Broomfield, Arvada, Westminster, Thornton, Northglenn, Wheat Ridge, Lafayette, Aurora, and Commerce City areas. Contact us to know more about our services.