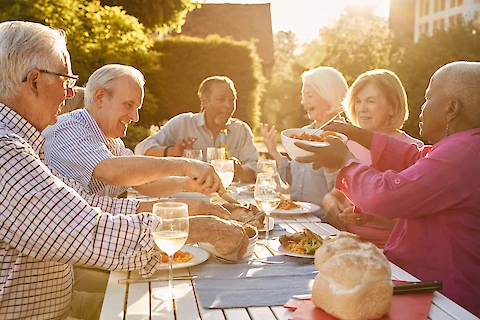 Valentine's Day is traditionally a day to celebrate romantic love. However, there are so many ways to spread joy and connection with friends. There are plenty of activities seniors can enjoy with their closest friends on the holiday, from enjoying a fun day trip to planning a dinner party. Here are some ideas for seniors who want to spend Valentine's Day celebrating with the people they're closest to.
Ideas for Celebrating Valentine's Day with Friends
A great way to show your appreciation for those you care about most is by gathering for a special event or friend date. Enjoying the holiday with friends doesn't have to be elaborate or fancy. In fact, most people will appreciate the chance to get together with those they care about.
Here are a few tips on celebrating Valentine's Day for seniors and their friends who live in the Denver area. 
Hosting a Dinner Party
Hosting a Valentine's Day dinner with friends is one of the best ways to gather your nearest and dearest together. For those who are able, bringing food or ingredients over for an outdoor waffle bar, hosting taco night in their backyard, having pizza delivered, or running an afternoon tea session can make doing the dishes and prep work easier.
Collaborating on the meal can also be a lot of fun. Each person can bring a side or a main dish to share. Alternatively, hiring catering from local Denver restaurants like Hillstone will show how much you care all while supporting local businesses and enjoying the best of what Denver has to offer.
Going on a Day Trip
Seniors can also invite friends for a day trip around Denver and bask in the beauty of the great outdoors. In fact, Colorado has plenty of spots where seniors can explore nature trails, including the famed Rocky Mountain National Park. Before you take off on your adventure, be sure to check wheelchair accessibility and plan to bring extra water, snacks, and supplies with you.
Doing a Virtual Hangout
It may not be possible for everyone to see each other face-to-face this year. If this is the case for your friend group, consider planning a virtual hangout with them. Seniors can schedule a Zoom or Facetime hang out, play online board games together, or even watch movies on Netflix party - all from the comfort of home. 
Discover Premium In-Home Care Services from Senior Helpers
Being able to come together with friends for Valentine's Day isn't just about expressing gratitude for one another. It's also an opportunity to have fun and create lasting memories with those you are closest to.
Senior Helpers Denver North offers top-quality senior care services for seniors in and around the Denver, Broomfield, Arvada, Westminster, Thornton, Northglenn, Wheat Ridge, Lafayette, Aurora, and Commerce City areas. Contact us today to learn more about the services that we offer and to see how we can help you!