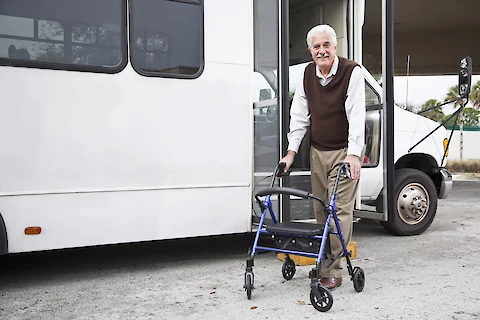 As we move forward into 2023, how we provide mobility solutions for our senior loved ones represents a priority for many families. Here at Senior Helpers of Solano-Yolo-City of Sacramento, an in-home senior care company, we understand the importance of helping seniors maintain their independence and quality of life. In this blog post, we will discuss the pros and cons of buying medical equipment for seniors and explore the details comparing renting versus buying. We serve residents from Vacaville to Winters and Fairfield to Davis. Please keep reading to learn about how to make mobility easier in 2023.
Pros Of Buying Medical Equipment For Seniors
Suppose your senior loved one deal with a condition that limits their mobility, such as a respiratory or heart condition or the loss of use of a limb, you may want to explore purchasing medical equipment. Below is a list of the pros of buying medical equipment:
Increased Mobility – Medical equipment such as walkers, wheelchairs, and scooters often help seniors stay independent and active by providing them with the means to get around.
Improved Quality of Life – With the help of medical equipment, seniors can spend more time doing the activities they love, such as visiting friends or going for a walk.
Cost Savings – Buying medical equipment can provide cost savings in the long term, as the equipment will last for many years, preventing the need for costly replacements.
Cons Of Buying Medical Equipment For Seniors
Of course, when considering the purchase of equipment, you'll also want to consider the cons: 
High Initial Cost – The upfront cost of purchasing medical equipment may seem expensive. But you may save money over time if your loved one uses the equipment for an extended period. 
Maintenance and Repair Costs – Over time, the equipment may wear down and require repairs or maintenance, which may add to the overall cost. 
Limited Availability – Depending on the type of medical equipment required, finding the suitable device in the size, weight, or function needed for a particular senior may be difficult.
Renting Versus Buying Equipment
If your senior parent or loved one only needs medical equipment for a short time or is unsure what type of equipment will suit them best, it makes sense to rent the equipment initially. 
Pros include lower costs and temporary commitment. Renting medical equipment may provide an excellent option for those who require short-term use. Renting for a few months while recovering from surgery, for example, will usually cost far less than purchasing the equipment.
Cons include the possible poor condition of the equipment. While rental equipment is typically well maintained, no guarantee exists that the equipment will not suffer from wear and tear.
We Can Help
At Senior Helpers Solano-Yolo-City of Sacramento, we understand how important mobility is to seniors' quality of life. We will help guide you through the process, whether you need a walker, wheelchair, or scooter. We serve the entire Sacramento, Solano County, Fairfield, Vacaville, Davis, and Winters regions. Contact us today to learn more about buying and renting medical equipment!