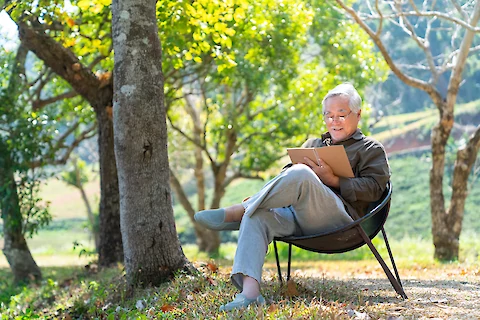 Create a Winter Reading List: 5 Books That Celebrate a Post-Retirement Life
Reading opens the mind to exciting new adventures and is a great way to reduce stress, improve sleep, and enhance memory retention. While many seniors have enjoyed a lifetime of reading, some are picking up a good book for the first time in a long while. 
Whether an avid reader or just a beginner, Senior Helpers Solano-Yolo-City of Sacramento encourages clients to explore some of the books listed below that are sure to entertain and inspire.
Recommendations For A Winter Reading List
Here are our choices for a winter reading list. So grab a cup of coffee, curl up on the couch with a favorite blanket, and enjoy these inspiring stories.
Becoming Better Grownups: Rediscovering What Matters And Remembering How To Fly by Brad Montague
The author talked with residents of retirement communities to gain wisdom and heartfelt lessons about fear, gratitude, success, love, and much more. He reveals how people can listen to their hearts and help others learn to fly while becoming more childlike in the search for eternal joy.
How To Retire Happy, Wild, And Free: Retirement Wisdom That You Won't Get From Your Financial Advisor by Ernie J. Zelinski
The international bestseller goes beyond financial security, offering retirement planning tools to help create a meaningful and thriving lifestyle after leaving the routine of a 9 to 5 job. The "Get-a-Life Tree" helps senior readers define their dreams and identify their fears while taking charge of their spiritual, mental, and physical health.
Retirement For Two by Maryanne Vandervelde
Read about shedding old roles that no longer work and finding ways to be intentional about developing new relationships outside the workplace. Learn to communicate, set boundaries, and embrace new experiences as a couple or as an individual.
The Beauty Of What Remains: How Our Greatest Fear Becomes Our Greatest Gift by Steve Leder
This inspirational book traverses the emotional journey of loss through a heartfelt narrative that helps readers discover how much they can gain through loss. Be prepared to laugh, cry, and experience deep love.
 Every Day Is Saturday by Jerry Zezima
The author is a syndicated humor columnist that offers a witty glimpse at sleeping in late, playing with the grandkids, and all the joys and challenges that come with retirement. Readers will be left smiling after enjoying the light-hearted book.
How To Track Your Progress
Readers can track their progress while working through a winter reading list by creating a spreadsheet or using an online app such as Goodreads. It is a great way to remember book titles for later reading and for suggesting favorite books to friends and family.
The Sacramento public library system offers reading lists curated by experienced librarians, with options for borrowing books, audiobooks, or digital copies.
Enjoy A Healthy Reading Habit With The Help Of Senior Helpers Of Solano-Yolo-City Of Sacramento
The compassionate caregivers at Senior Helpers Solano-Yolo-City of Sacramento offer personalized home care services for seniors living in Sacramento, Fairfield, Vacaville, Davis, Winters, and Solano County. Our professional, in-home caregivers make ideal companions and can help clients expand their winter reading list while offering suggestions for a healthy and meaningful lifestyle. Contact us today to learn more about our services.