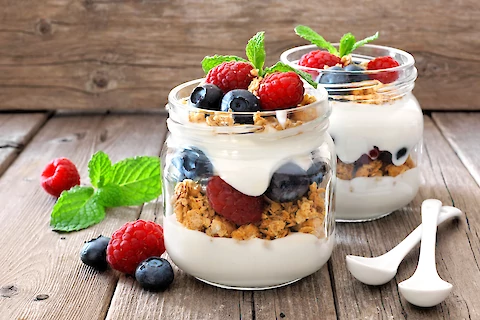 The Fourth of July presents the ideal opportunity to indulge in delicious food while we gather to celebrate America's birthday. But often, the desserts at these get-togethers can be a sugar-laden nightmare, especially for seniors whose health might be compromised by the added sweetness. This Senior Helpers blog post offers a variety of low-sugar and low-fat dessert ideas to bring a healthy twist to your Independence Day celebrations.
Importance of Healthy Desserts for Seniors
Health experts often warn about the effects of sugar-packed desserts on our bodies. Too much sugar can lead to complications like weight gain, heart disease, and diabetes. Of course, seniors are more susceptible to all these conditions. Even though special occasions like the Fourth of July call for indulgence, it doesn't have to come at the cost of one's health. There are delightful low-sugar dessert recipes available that are just as delicious as their full-sugar counterparts.
Low-Sugar Dessert Ideas
These healthy desserts prove that with just a bit of creativity, you can enjoy something sweet while still cutting back on sugar.
1. Fruit Salad With Honey Lime Dressing
Fruit salad with honey lime dressing offers an explosion of flavors and a wonderful blend of seasonal fruits. The natural sweetness of fruits coupled with the zing of honey-lime dressing offers a refreshing treat that is healthy too. 
2. Sugar-Free Apple Pie
No Fourth of July celebration is complete without an all-American apple pie. By swapping regular sugar for a natural sweetener like stevia, you can relish this pie guilt-free. It is a sugar-free twist on a classic packed with cinnamon-spiced apples and enveloped in a golden, flaky crust.
3. Greek Yogurt Berry Parfait
You might want to try a Greek yogurt berry parfait for a creamy delight. Tangy Greek yogurt layered with fresh berries and a dash of honey makes for a simple yet decadent dessert. It is rich in protein and antioxidants and is a nutritional powerhouse. 
4. Low-Sugar Strawberry Shortcake
Low-sugar strawberry shortcake will soon become everyone's favorite dessert. The popular classic gets a healthy makeover with a fluffy, whole-grain biscuit topped with juicy strawberries and a dollop of light whipped cream. It is a patriotic dessert requiring minimal sugar.
How to Make Desserts Healthier
Choose simple swaps to make your desserts healthier. Use natural sweeteners like honey or stevia instead of sugar to cut the calorie count significantly. Opt for whole-grain flour over refined flour to add a dose of fiber, and Greek yogurt instead of full-fat cream to lower the fat content. These small changes can make our cherished desserts a healthier choice without compromising on taste.
Making July 4th Celebrations Fun and Healthy
Incorporating these low-sugar desserts into your Fourth of July celebration ensures a balanced and delightful feast. Turn preparing these dishes into a fun, family activity to add even more joy to the occasion. Basking in the glory of fireworks, engaging in light physical activities, or simply enjoying a good laugh with loved ones can make for a memorable and healthy Independence Day.
Senior Helpers Can Assist With Holiday Preparations
Senior Helpers offers personalized in-home care services to meet the needs of our community's seniors and their families. If you live in the Sacramento, Solano County, Fairfield, or Davis areas, contact us at Senior Helpers Solano-Yolo-City of Sacramento. We are happy to help make your Fourth of July celebration the best one ever.