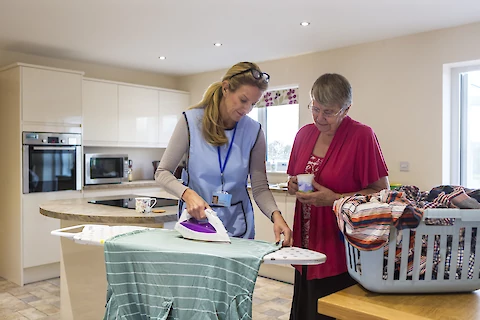 As loved ones age, they often need help in ways they may not want to ask for at first. That's why it's a huge sign of empathy and caring when their adult children and grandchildren go out of their way to offer assistance. They find that their aging parents or grandparents are delighted when their family offers or arranges for task-specific help just when they need it most. But which chores are they most likely to need help with? How to divide the tasks up between family, professional cleaners, and dedicated caregivers? In this article, we'll explore how to make these assessments to ensure a happy, healthy, and clean new chapter of life for aging family members in Santa Rosa Wine Country.
Maintaining Autonomy
When thinking of which cleaning tasks to take off their hands, consider which chores they want to do themselves (aka, "retained chores"). At the same time, it could be bothersome or offensive to overtly ask whether or not they are capable of each and every task.
Stand in their shoes, and think ergonomically – it's much easier interacting with one's environment from within a comfortable arm's reach. Consider whether any given task requires the following motions or postures:
Reaching above the shoulders
Maintaining balance
Twisting the spine
Bending down
Keeping a tight grip
Continual exertion (e.g., scrubbing)
If a task requires much of the above, chances are, it should be off their plate.
Which Chores Can Be Minimized?
Pay attention to chores that don't even need to happen. See if organizing things differently creates a greater sense of ease in their environment. Move things within easy access, especially those items that are used most often. Many are surprised by how much unnecessary bending over and reaching is done at the fridge, for example, until one experiences a movement limiting injury. If something can be replaced with an invention (e.g., a robotic vacuum, motorized drapes, an electric can opener, or a riding lawn mower), that's another easy fix.
Chores to Outsource
Aside from those tasks aging family members can and want to do, there are a few choices when delegating tasks. Different chores are better suited for each of the following three options.
Friends or Family Members
This may be the best option for momentary or time-limited things. If all that's needed is to move a piece of furniture or haul a heavy tote out of storage, it's unreasonable to call a professional for a single, simple task if they have someone nearby who doesn't mind stopping by for a chat anyway. This also may be a better choice if they need help cleaning in an area with a mess of private documents or items (e.g., piled up mail, legal and financial documents, etc.).
Have a meeting with all who might be available for singular tasks like these. Compile everyone's contact info for the older family member to have. Ensure everybody exchanges info with each other as well. The key to this option is to create a network, and this will provide an important sense of safety and community while you're at it.
Professional Cleaners
A professional cleaning service is a thorough way of getting many tasks done that don't require much specificity or cooperation on the part of the homeowner. Aside from matters such as chemical sensitivities or special instructions for delicate items and ergonomic devices, pro cleaners handle a wide range of tasks without needing much oversight.
A cleaning service should be able to handle the following basic, but time-consuming tasks for an elder loved one:
Dusting
Mopping
Vacuuming
Laundry
Dishes
They also will usually straighten up and clean the kitchen, bathroom, and living area. See if there is a local cleaner that also doesn't mind doing light repairs or maintenance (e.g., changing light bulbs, hanging pictures, etc.) if it comes up, too. Having professional cleaning and maintenance services may be a well-deserved load off an aging parent's back – but a professional cleaner will only be able to do so much, and there is usually very little of the personal connection that many older adults need.
At-Home Caregiver
For more individualized care that goes beyond basic chores, plan on hiring a dedicated and experienced caregiver. A caregiver can provide the tasks needed to feel right at home while maintaining the lifestyle they're used to. From running errands to providing meals and other personal support, caregivers go well beyond basic cleaning services – they are right there to give aging loved ones the specialized services they need most, right when it's needed.
With the most loyal and compassionate caregiver, one's older parent or grandparent will receive:
Competent assistance in case of emergency
Medication pickups & reminders
Shopping & cooking
Emotional support
Condition-specific care
Basic hygienic assistance
Assistance with fun, ability-specific exercises
The heart of caregiving service is personalized care that gives aging parents the support they need far beyond straightening up their physical environment.
Custom and Attentive Caregiving
Everyone can all use a little help with chores from time to time, but for aging family members, it becomes a true necessity. Senior Helpers in Santa Rosa Wine Country provides in-home caregiving service designed with each client's exact and personalized needs in mind. To see if in-home care is the right call, please contact us with any questions – or schedule a free in-home assessment in the Santa Rosa Wine Country, Ukiah, Sebastopol, and Rohnert Park areas today.