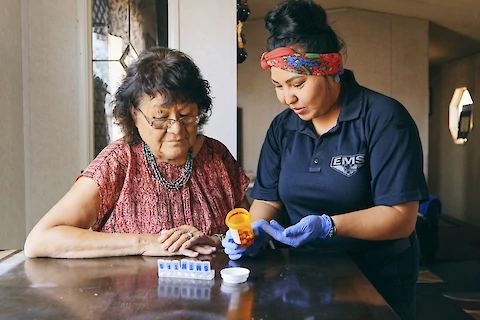 Where To Find Financial Assistance When Caring For An Elderly Relative
Caring for an aging loved one is a stressful undertaking. Caregiving is also financially demanding, and the longer the caregiver provides care, the more financial strain they feel. A recent AARP study shows family caregivers spend an average of 26% of their income on caregiving activities. Fortunately, several state, federal and local programs can provide financial assistance for family caregivers and help lift financial burdens. This blog discusses five financial assistance programs for caregivers in Santa Barbara.
What Is The Daily Cost Of Caregiving?
Recent studies confirm that caring for aging loved ones can affect a caregiver's quality of life and financial stability. The following is a summary of the daily costs of caregiving:
5 Financial Assistance Programs for Caregivers in Santa Barbara
Medicaid Self-Directed Programs
Senior loved ones in Santa Barbara who live with a disability or chronic condition and are eligible for Medicaid can qualify for financial assistance, which families can use to purchase crucial home support and community-based services. These programs, popularly known as cash & counseling, consumer or self-directed programs, can be used to pay for the family caregiver or to pay for respite.
Supplemental Security Income
A senior whose Social Security benefits were earned through lower-paying jobs can qualify for a larger monthly benefit from Supplemental Security Administration (SSA), known as the Supplemental Security Income (SSI). The SSI program is funded by the federal government and provides seniors with monthly payments to pay for their living expenses. Since SSI is a needs-based program, applicants should meet certain income and asset requirements.
Veterans Services
If the senior loved one is a veteran, they may be eligible for an Aid and Attendance benefit, Veterans Pensions, or Veteran Directed Care Program. All these programs have the potential to provide financial support and other tailor-made support. Some veterans may also be eligible for the Program of Comprehensive Assistance for Family Caregivers. This program provides multiple financial aids to family caregivers, such as:
Respite
Mental health services
Travel expenses
Health care insurance for family caregivers
Caregiver stipends
Structured Family Caregiving Support
Several states have approved the Centers for Medicare and Medicaid Services to provide Structured Family Caregiving financial support for eligible family caregivers. Through this program, family caregivers get paid and receive additional support to help lighten the caregiving burden. To qualify, the senior needing care must meet the following requirements:
Should be eligible for Medicaid
Needs 24-hour care and supervision
Require help with one or more daily care needs such as eating, toileting, bathing
BenefitsCheckUp 
BenefitsCheckUp is a comprehensive database of crucial benefits programs for seniors and family caregivers with income and resource challenges. The database is a free online tool offered by the National Council on Aging. It allows seniors and caregivers to determine whether they qualify for more than 2,500 federal, state, and private benefits programs. Available resources include:
Income assistance
In-home services
Housing services
Transportation services
Legal aid services
Energy/utility assistance
Prescription drug savings
Nutrition assistance, including Food Stamps
Contact Senior Helpers Santa Barbara Today
Caregiving can be full of financial challenges. Family caregivers often face difficulties related to daily expenses, such as shopping, medical expenses, home maintenance, and meal preparation. Luckily families and caregivers in Santa Barbara, Goleta, Lompoc, Ventura, and Ojai can take advantage of the available financial assistance programs to meet these costs. 
At Senior Helpers Santa Barbara, we understand the challenges that family caregivers often face in providing care for their loved ones. We provide a comprehensive suite of programs and services that support aging in place. Our compassionate and kind caregivers in Santa Barbara, Goleta, Lompoc, Ventura, and Ojai are ready to provide tailor-made senior care services wherever your senior resides. Contact us today to discuss your options regarding about In-Home Care Services.