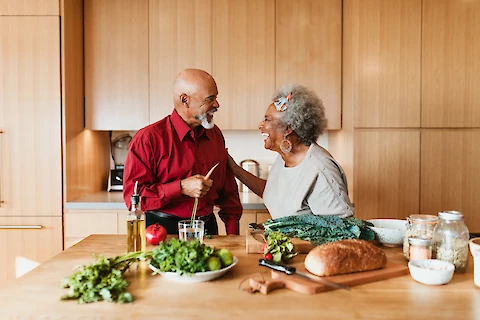 Safety Tips for Living At Home
When it comes to independent living at home for a senior, safety is the top priority for making it a success. Taking the time to properly scan an elderly loved one's home for any potential hazards is especially helpful. Look for any trip hazards such as loose items on the floor, scatter rugs that are not tacked down, and cords that are not properly secured. Make sure to tie up and tuck cords, create an organizational space for loose items to be stored, and tack down or remove area rugs. Be sure your loved one wears nonskid shoes and refrains from wearing socks on wood floors without shoes. Avoid over waxing or polishing floors and install handrails in bathrooms and around stairs to further assist with random unsteadiness.
Keeping safety in mind at all times is important when it comes to living alone. Install light-sensing and motion-activated nightlights in hallways and bathrooms throughout the home. Your senior loved one will be able to navigate in the dark a lot easier with some assistance of a little bit of light. This will prevent any accidental falls while searching for the light switch when needed after the sun has set.
Another safety tip for seniors who live alone is check for expired food in the refrigerator. Spoiled foods can cause sickness and should be discarded. It is common for leftovers to get shoved to the back of the fridge and forgotten, so it's important to do a weekly check of uneaten foods that can be tossed out.
When living alone, it is helpful to get to know your neighbors. It isn't necessary to become frequent dinner dates, but it is good to have an extra set of ears to hear any cries for help or to keep an eye on the home for any suspicious activity while away. If a senior loved one is living independently in their home, it is important to have all necessary doctor and emergency contact phone numbers listed near every phone in the home. Having easy access to these numbers is helpful should your loved one have a forgetful moment or if a visitor should witness an emergency situation.
The ability to stay in the comforts of home, in our familiar environment and community, is highly desired by most people. We want to live where we are comfortable and stay active in our local community events and social circles. As we age, remaining at home can be a little more complicated, but it does not mean it is impossible. The compassionate caregivers from Senior Helpers of Santa Barbara can provide the type of in-home care needed to all parts of Santa Barbara, Goleta, Lompoc, Santa Ynez, and Carpinteria, California.
As our elderly loved ones get older, the need for daily assistance becomes more apparent. Whether a senior loved one needs a little extra help with household chores or is recovering from a recent illness or surgery, live in senior care is a very popular and an often-sought-after choice. For many elderly loved ones, it is very important to be able to live comfortably in the familiarity of their own home rather than being uprooted and moved to an assisted living facility. Maintaining a healthy and happy lifestyle is the best route for a happy life. Live in senior care includes light housekeeping, meal preparation and companionship. If you would like to learn more about caring and consistent in-home help and the many benefits of professional elderly care or dementia and Alzheimer's care, call Senior Helpers to speak to a senior care specialist today 805-687-7777! Live in senior care allows your loved one to stay in the comforts of their own home for as long as possible while receiving the level of care they need. Senior Helpers of Santa Barbara provides a wide range of services including Alzheimer's and dementia care, personal assistance, companionship, and so much more to all areas of Santa Barbara, Goleta, Lompoc, Santa Ynez, and Carpinteria, California.