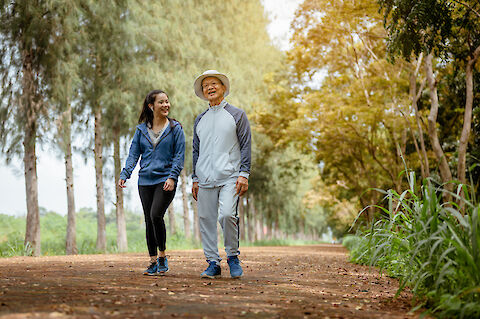 As the days become longer and the weather grows warmer, it is the perfect time for seniors to get outside and get moving. Here at Senior Helpers Santa Barbara, we understand the importance of regular exercise and mobility for a senior's health and well-being. That is why we're offering a helpful guide on creating a spring walking routine that is both enjoyable and beneficial for daily mobility and exercise. Keep reading to see how you can get started.
Benefits of a Spring Walking Routine
The health benefits of a regular walking routine are plentiful. Here are a few reasons why establishing a daily walking habit is good for you.
Improved Mobility 
Walking regularly helps maintain and improve flexibility, joint health, and overall mobility. This can help to reduce the risk of falls and keep seniors in tip-top shape. 
Increased Exercise 
Walking is a low-impact exercise that is great for improving cardiovascular health and increasing energy over time. It strengthens muscles and promotes a healthy weight. Before starting a new exercise routine, however, always consult your doctor first.
Improved Mental Health
Walking regularly helps to reduce stress and anxiety and can even help to improve your mood. It is a great way to get out and socialize with other people. 
Steps to Creating a Walking Routine
Here are five steps to help you get started:
Set a goal — Decide on how often and how far you want to walk and set that as your goal. Make sure your goal is realistic and achievable for you.
Choose a route — Find a nearby safe, familiar route with flat, even surfaces. Look for local trails and routes that are interesting and enjoyable.
Choose a time — Pick a time of day that works best for you and try to stick to it.
Choose a walking pace — Start with a comfortable pace and gradually increase it over time.
Choose a walking partner — Walking with a friend or family member can help to make the experience safer and more enjoyable.
Tips for Sticking to a Walking Routine
Creating a walking routine is one thing, but sticking to it is another. Here are some tips to help you stay on track:
Set a schedule — Setting a specific schedule and sticking to it can help to create a consistent routine
Track your progress —Track your walking goals, distances, and times to keep you motivated and energized.
Reward yourself — Reward yourself for sticking to the routine and hitting your goals.
Get Help Creating a Walking Routine With Senior Helpers
A spring walking routine can be a fun and beneficial way for seniors to improve their mobility, get exercise, and foster mental health. With the right goals and progress tracking, you can set yourself up for success. If you or a loved one in Santa Barbara, Goleta, Lompoc, Ventura, or Ojai need extra support and assistance, Senior Helpers Santa Barbara is here to help. Contact us today to learn about how we can help you or your loved one maintain their independence.