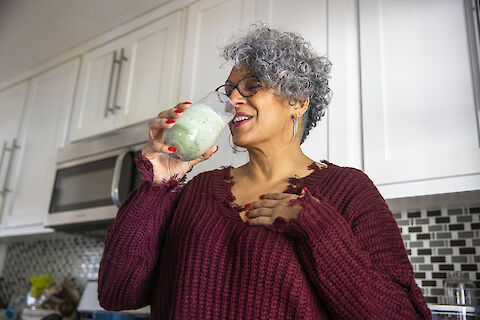 Just about everyone loves a delicious and refreshing smoothie. In addition to tasting great, smoothies contain many nutrients, which is especially important for seniors to stay vital and healthy. At Senior Helpers Santa Barbara, we firmly believe that nutritious food is crucial in promoting wellness and longevity. However, we also know that many smoothies contain loads of added sugars. Sugar is mainly detrimental to our health, especially as we age. This post provides a guide to preparing wholesome smoothies without a pinch of added sugar. 
The Importance of Reducing Sugar Intake
Most of us love the taste of sugar, but unfortunately, it doesn't provide nutritional value. Too much sugar may lead to weight gain, heart disease, and cognitive decline. Sugar is especially harmful to seniors because, as we age, our bodies become less efficient at processing sugar. Fortunately, nature provides ample sweet substitutes far healthier and just as delicious as sugar.
Ingredients Selection Tips
To create a nutritious, sugar-free smoothie, you need the right ingredients. Focus on ripe, fresh fruits, as these will give a natural sweetness to your smoothies. Bananas, strawberries, and mangoes are your best bet. For creaminess, avocado or Greek yogurt work well. Add a handful of green leafy veggies to make your smoothie even more nutritious. Spinach, kale, or Swiss chard would all work well. And don't overlook spices! Cinnamon, nutmeg, and vanilla extract can elevate your smoothie's flavor profile while keeping it sugar-free. 
You may also want to add extra protein and nutrition by adding nuts such as walnuts or almonds with heart-healthy fats. Additionally, protein powder also adds nutrition and substance to smoothies. Just make sure to select a powder without sugar. 
Nutritious Smoothie Recipes Without Added Sugar
Here are three popular smoothies recipes to get you started:
Green Goddess Smoothie: Blend one ripe banana, a cup of spinach, half an avocado, and a sprinkle of cinnamon. This smoothie contains plenty of potassium and heart-healthy fats.
Berry Bliss Smoothie: Combine a cup of mixed berries, Greek yogurt, and a dash of vanilla extract. Berries are full of antioxidants, great for boosting your immunity.
Tropical Delight Smoothie: Blend half a mango, a slice of pineapple, and a spoonful of unsweetened coconut milk. This tropical treat provides plenty of Vitamins C and A.
Additional Tips for Enjoying Nutritious Smoothies
Another great thing about smoothies is that they taste great any time of the day. Drink a smoothie for breakfast for a nutritious start or as an afternoon snack to beat hunger pangs. You may also make a large batch and store it in the fridge. Just shake it well before drinking, as the ingredients might separate over time.
We Can Help
Reducing sugar in our diet doesn't mean sacrificing taste or enjoyment. With the right ingredients and a little creativity, you'll create smoothies that are as healthy as they are delicious. 
If you live in Santa Barbara, Goleta, Lompoc, Ventura, or Ojai and need assistance managing a healthy diet or general senior care, don't hesitate to contact us at Senior Helpers Santa Barbara.We offer in-home care services such as Wellness Watch and Personal Care to improve the lives of seniors and their caregivers.