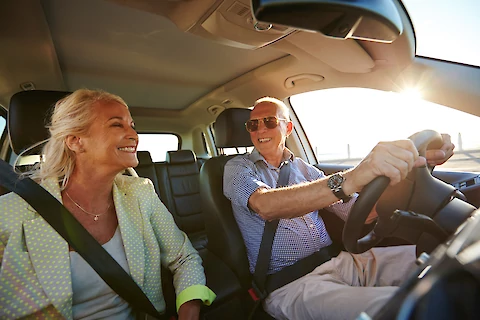 There is nothing quite like hitting the open road for a memorable summer road trip with family and friends. Road trips offer a fantastic opportunity for seniors and their loved ones to explore new places and bond over shared experiences in the great outdoors. This Senior Helpers blog post offers practical tips and suggestions for planning a senior-friendly road trip that caters to the interests, comfort, and well-being of the seniors in your life. 
Choose the Right Destination
Take into account the interests and preferences of the seniors who will be accompanying you when planning a road trip. Look for accessible and mobility-friendly attractions that cater to a wide range of physical abilities. Consider the proximity to medical facilities or pharmacies in the area in case of any health-related concerns during the trip.
Pack Essentials for a Senior-Friendly Road Trip
The key to a comfortable and enjoyable road trip is being well-prepared. Make sure all necessary medications and medical supplies are packed and easily accessible throughout the journey. Opt for comfortable clothing and footwear suitable for the varying weather conditions you might encounter. Don't forget to pack nutritious snacks and drinks to stay hydrated on the go.
To keep seniors entertained during long stretches of travel, include options like books, puzzles, or music. Don't forget to bring along any mobility aids that may be required, including a walking cane or wheelchair, to ensure a smooth and hassle-free experience at each stop.
Tailor Activities to Seniors' Interests and Abilities
It is important to consider options that cater to seniors' interests and abilities when selecting activities and attractions. Scenic drives and sightseeing tours allow for leisurely exploration without excessive physical exertion. Historical and cultural attractions, like museums or historic sites, are not only educational but often feature well-maintained facilities that are accessible to visitors with limited mobility.
Nature walks and easy hikes can provide gentle exercise and opportunities to connect with the environment. Picnics and outdoor dining offer chances to relax and enjoy delicious food in beautiful surroundings. Look for local events and performances that could be of interest to seniors, including concerts, plays, or art exhibits.
Keep Safety in Mind
Keep the journey worry-free by making sure seniors have adequate travel insurance coverage and carry emergency contact information with them. Prioritize vehicle safety by getting necessary checks and maintenance before hitting the road. Utilize GPS navigation and offline maps to avoid getting lost. Whenever possible, encourage seniors to travel with a companion or caregiver who can assist with any unexpected challenges or health concerns that may arise during the trip.
Space Out Rest Stops Effectively
Plan stops every 1-2 hours for stretching, restroom breaks, and opportunities to enjoy the scenery. Incorporate meal breaks and sightseeing visits along the route to break up long stretches of travel. Be flexible and adjust your travel itinerary based on the energy levels and preferences of the seniors in your group.
Make Lasting Memories Together
Road trips are an excellent chance to bond with loved ones and create meaningful memories. Encourage seniors to share their stories and experiences during the journey to foster connections across generations. Capture these special moments with photos or videos and collect souvenirs or mementos from each destination. 
Senior Helpers Offers Companion Care
Senior Helpers provides the best in quality, in-home senior care tailored for the specific needs of our senior community. If you live in the Santa Barbara, Goleta, Ventura, or Ojai areas and require assistance or care for seniors, don't hesitate to contact us at Senior Helpers Santa Barbara for professional support and services.