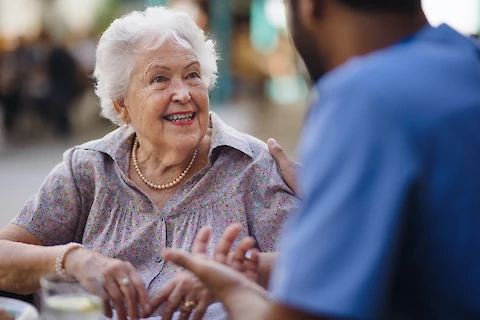 As a senior, it's important to be aware of the benefits available to you, especially those managed by the Department of Veterans Affairs (VA). Many seniors aren't taking advantage of these valuable resources, which can greatly improve their quality of life and provide much-needed support to both the seniors themselves and their family caregivers. In this blog post, we'll explore some underutilized and lesser-known benefits provided by the VA that you may qualify for. By understanding these benefits, you can make the most of the support available to you, ensuring you receive the best possible care. Ready to get started? 
1. Aid and Attendance (A&A)
Aid and Attendance (A&A) is a valuable benefit that can provide financial assistance to seniors who need help with daily activities such as bathing, dressing, or eating. To be eligible for A&A, you must meet certain service, disability, and financial requirements. First, you must have served at least 90 days of active military service, with at least one day during a period of war. You must also have a disability that requires assistance with daily tasks and meet specific financial thresholds. Applying for A&A involves submitting an application to the VA, which will assess your eligibility.
A&A can provide crucial support to seniors, helping to cover the costs of caregiving assistance or even an assisted living facility. This can alleviate financial strain and ensure seniors receive the level of care they need.
2. Housebound Benefits
Housebound Benefits are designed for veterans who are essentially confined to their homes due to permanent disabilities. To qualify, you must meet the service requirements mentioned earlier and have a 100% disability rating from the VA. You must also show that your disability makes it extremely difficult to leave your home without assistance. 
Applying for Housebound benefits is similar to applying for A&A, as you'll need to apply to the VA. Once approved, Housebound Benefits can help cover the cost of services and equipment necessary to improve your quality of life, ease the burden on your caregivers, and enable you to remain in your home as long as possible.
3. Respite Care
Respite Care is a fantastic resource that provides temporary relief to family caregivers, giving them a much-needed break. Through the VA's Respite Care program, eligible seniors can receive up to 30 days of care per year at a VA facility, in their homes, or through community programs. Like the previous benefits, you must meet service and disability requirements, but the financial threshold is slightly more flexible.
To apply for respite care, contact your local VA Medical Center to discuss your needs and find out about available resources. Respite care can offer significant benefits to both seniors and their caregivers, enhancing overall well-being and preventing caregiver burnout.
4. Home-Based Primary Care (HBPC)
Home-Based Primary Care (HBPC) is a program that delivers medical care directly to your home, reducing the need for hospital visits and making healthcare more accessible. Eligibility for HBPC is based on service requirements, as well as significant health needs that are challenging to manage through traditional outpatient care.
To request HBPC, contact your local VA Medical Center to discuss your medical needs and determine if HBPC is a good fit for you. This benefit can help seniors manage complex health conditions from the comfort of their own homes, with medical professionals working closely with the individuals and their caregivers.
We Support Veterans in Ventura and Santa Barbara Counties
Whether you're a senior or a caregiver, don't miss out on these fantastic VA resources that can make a genuine difference in your well-being and overall quality of life.
If you're living in Santa Barbara, Goleta, Lompoc, Ventura, or Ojai and need assistance with in-home care, Senior Helpers Santa Barbara is here to help. Contact us today to learn more about how we can support you and your loved ones in making the most of these invaluable resources.