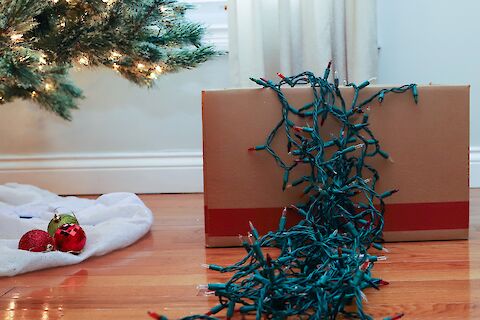 After the fun and excitement of the holiday season, it is time to prepare for the new year by cleaning up and storing all of your holiday decorations. It can be a lot of fun to switch out your decorations, but not as enjoyable when it comes time to store all of those heavy boxes and totes full of decor. Senior Helpers Marin County has some suggestions for senior adults who are planning ahead and want to narrow down the perfect plan to store their holiday decorations - that doesn't involve the attic!
Put Your Decorations in the Basement
Rather than storing your boxes in the attic, which would require you to balance on a ladder while carrying unwieldy boxes, consider putting your holiday decorations in the basement, if you have one. Basements are usually a great place to store any sort of extra boxes or plastic totes since the temperature in basements is usually cooler than in the main level of your home or in closets. Keep in mind that if you do decide to store decorations in the basement, take extra care while traversing the stairs.
Store Boxes in a Closet
Another great option for storage is to utilize the closet space in your home or apartment. Many people have closets that they don't typically use, which means that they remain empty for most of the year. You could designate one of the closets in your home as the holiday decor closet, and stack all of the boxes or totes there to enjoy access. Alternatively, if you have a guest room or spare bedroom in the home that doesn't get a lot of use throughout the year, you could choose to store your holiday decorations there. In order for the boxes to not be an eyesore, you could choose aesthetically pleasing totes, ones with special designs on them, or ones with festive colors.
Don't Hesitate to Ask For Help
It's important to remember that even lightweight boxes can be unwieldy and hard to manage when traversing ladders or stairs. Heavy boxes can present their own problems, possibly leading to back strain, pulled muscles, or other issues. It's a good idea to ask for help if you feel even the slightest bit unsure about storing your holiday decorations yourself. Your family and friends will likely be happy to help you store your decor. You could even make a full day of it, prepping some delicious treats and spending quality time together all while cleaning and organizing your home. Storing your holiday decor will no longer be a chore when you are able to enjoy companionship and camaraderie!
Senior Helpers Provides Premier In-Home Caregiving Services
If you need help organizing your space while enjoying companionship, reach out to Senior Helpers. Our premium in-home caregiving services help senior adults in and around the San Rafael, Belvedere Tiburon, Marin County, Mill Valley, and Sausalito areas. Contact Senior Helpers today to learn more!