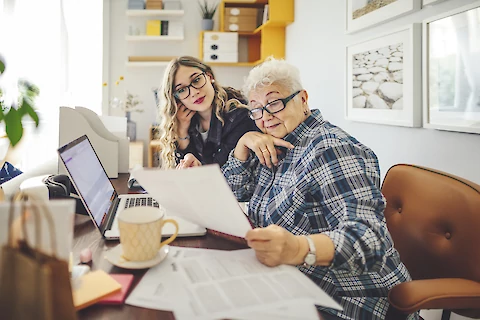 How to Protect Aging Parents From Financial Exploitation
The financial exploitation of seniors is a growing problem. From scam calls to text messages asking for financial information, unscrupulous characters like to target senior adults in a myriad of ways. Senior Helpers is an in-home senior care company serving the San Rafael, Belvedere Tiburon, Marin County, Mill Valley, and Sausalito areas. We understand the importance of protecting aging parents from financial exploitation. In this post, we will discuss what financial exploitation looks like and how families can help protect their loved ones from becoming a victim. 
What Does Financial Exploitation Look Like?
Financial exploitation is a form of elder abuse where an individual or organization takes advantage of a senior's vulnerability to gain access to their financial assets. Financial exploitation can include taking money without permission, misusing credit cards and bank accounts, coercing seniors into signing contracts they don't understand and forging signatures on documents such as wills and trusts. 
Signs of Financial Exploitation
The most common signs of financial exploitation include sudden changes in bank accounts or banking practices, unexpected withdrawals from accounts, unpaid bills, and unexplained transfers of money or property. In addition, senior adults may display signs such as a lack of knowledge about finances, confusion about financial transactions, and increased isolation. 
How to Protect Aging Parents
Establish Power of Attorney
Establishing power of attorney is an important step in protecting seniors from financial exploitation. Power of attorney gives the designated person legal authority to make decisions on behalf of the senior in cases where they are no longer able to do so. 
Creating trust is another way to ensure that seniors' financial assets are managed in their best interest. A trust can help protect the senior's finances and provide for long-term care needs. 
Creating a financial plan is also an important step in protecting seniors from financial exploitation. A comprehensive financial plan should include all of the senior's assets and liabilities, income sources, expected expenses, and long-term care needs. 
Monitor Credit Cards and Bank Statements
Monitoring credit cards and bank statements are also important. Checking in regularly on financial accounts can help to identify any suspicious activity or unexplained changes that may be signs of financial exploitation. 
Finally, it's important to educate and communicate with aging parents about financial exploitation. Talking openly about the risks of financial exploitation can help seniors recognize signs of potential abuse and take action to protect themselves.
Senior Helpers Marin County Helps Seniors Maintain Their Quality of Life
If you are concerned about a loved one's financial well-being, the first step is to have a conversation. Senior Helpers Marin County in San Rafael, Belvedere Tiburon, Marin County, Mill Valley, and Sausalito offers in-home care services that can help seniors with activities of daily living and give families peace of mind. Our caregivers are trained to recognize signs of elder abuse and can provide support to seniors and their families. For more information about our services, contact us today.