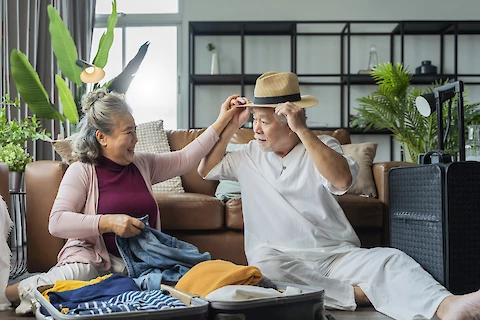 As the warm summer months approach, the excitement of planning a getaway fills the air with anticipation. And whether you're escaping for a weekend or embarking on an extended adventure, properly packing the essentials is crucial for a comfortable and enjoyable experience. 
This blog will walk you through a helpful packing list, ensuring you have all the items you need for your summer trip.
Checklist of Essential Items
When it comes to packing for your summer trip, organization and thoroughness are key. We've broken down the must-haves into five main categories:
Clothing
Packing weather-appropriate attire is essential for staying comfortable during your trip. Include light layers, as well as a light jacket for cooler evenings. Bring along comfortable shoes for walking and exploring, and don't forget swimwear and beach accessories if you're heading to a coastal destination. Last but not least, pack cozy sleepwear to ensure a good night's rest. 
Toiletries
Gather all your personal care items in travel-sized containers to save space in your luggage. Don't forget to pack your medications and supplements, making sure you have enough supplies for the entire trip. Additionally, pack a small first-aid kit containing basic supplies like bandaids and pain relievers. This can be a lifesaver in case of minor injuries or discomfort.
Travel Documents
Ensure you have all your necessary identification and travel documents readily accessible, including your ID or passport, travel insurance details, and any important contact information. Keep these items secure and organized in a designated travel wallet or folder.
Electronics
Staying connected is important while traveling, so be sure to pack your mobile phone and charger. If you're an avid photographer, don't forget your camera and accessories. Depending on your destination, a travel adapter might also be necessary to charge your devices. 
Miscellaneous
Having snacks and a refillable water bottle can help energize you throughout your travels. For entertainment during downtime or long journeys, pack your favorite books, puzzles, or other activities. Lastly, a travel pillow and blanket can make all the difference in ensuring you're comfortable during transit.
Packing for Different Types of Transportation
Air travel. When flying, bear in mind the TSA regulations and restrictions regarding liquids, gels, and aerosols. Carefully consider which items should be packed in your carry-on versus your checked luggage, and aim to keep valuable or essential items with you on board.
Train travel. Trains often have luggage limitations and designated storage areas. Be prepared by packing efficiently and bringing only what you need. For added comfort during long journeys, consider bringing along a neck pillow or an eye mask to help you relax and rest.
Road trips. For road trips, car organization and storage solutions can help keep your belongings accessible and tidy. Ensure you have navigation tools, like a GPS device or printed maps, and make sure your roadside assistance membership is up-to-date.
Get Premium Senior Care Services
Armed with these essential items and packing tips, you're well on your way to enjoying a successful and memorable summer trip. Remember, being prepared is the key to a stress-free and enjoyable experience. For those living in San Rafael, Marin County, Mill Valley, and Sausalito, Senior Helpers Marin County is here to assist you with all your senior care needs. Contact us today to learn more about our services!