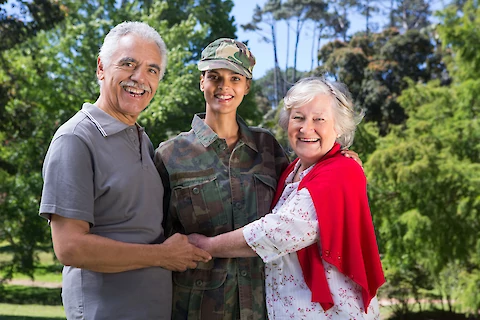 May is Military Appreciation Month, a special time to recognize our brave military veterans' incredible sacrifices and achievements. This month presents a beautiful opportunity to celebrate their service and create lasting memories together. Let's explore some fun, engaging activities for seniors to celebrate Military Appreciation Month with their loved ones. 
Local Activities in Marin County
One of the best ways to celebrate Military Appreciation Month is to participate in local activities with your veteran family member. There are plenty of options in and around Marin County to help you honor their service and create memorable experiences together.
In San Rafael, consider visiting the Marin County Veterans Memorial Building. This local treasure hosts events and meetings throughout the year, making it an excellent place to learn about our local veterans and military history. You might even meet some fellow veterans who have incredible stories to share.
A trip to the Marin Headlands in Sausalito is another excellent way to spend time with your loved one while appreciating our military's past. Visiting historic military sites like Battery Spencer and Fort Cronkhite also provides unique insights into the Bay Area's role in national defense.  
If you want something more community-oriented, check your local community calendars for military appreciation events in Mill Valley or Belvedere Tiburon. You might find parades, ceremonies, or other special activities that the whole family can attend to show support for our veterans.
Lastly, supporting local veteran-owned businesses is a fantastic way to celebrate Military Appreciation Month. Visiting shops, restaurants, or services owned by veterans helps the local economy and shows these heroes that their community stands behind them.
Long-Distance Celebration Ideas
If your veteran family member lives far away, there are still many ways to honor and celebrate their service together. 
First, schedule a virtual family gathering using a video conferencing platform like Zoom or Skype. This can be a fantastic way to bring your family together to share stories, memories, and even a meal from afar. 
Another idea is to create a family military appreciation project. Collect photos, letters, and memorabilia from your loved one's military service and compile them into a scrapbook or digital album. Share this project with family members both near and far, creating a lasting tribute to your veteran's bravery and dedication.
Finally, consider sending care packages to your deployed family member. This small gesture can significantly impact your loved one's morale while they're away from home. Involve your entire family in assembling and sending these packages filled with personal items, snacks, and messages of support.
We Care for Senior Veterans in Marin
Military Appreciation Month offers a valuable opportunity to honor and celebrate the service of our veteran family members. Whether exploring the beautiful Marin County together or connecting from a distance, these activities provide meaningful ways to show your love and support. Remember, the time spent together and the memories created are the most valuable gifts you can give.
If you're a senior living in San Rafael, Belvedere Tiburon, Marin County, Mill Valley, or Sausalito, don't hesitate to contact Senior Helpers for assistance planning and participating in Military Appreciation Month activities. We can help plan events, transport your senior loved one, or be there to hear their stories during this special month. We're here to help you create a memorable experience that you and your veteran loved one will cherish for years.