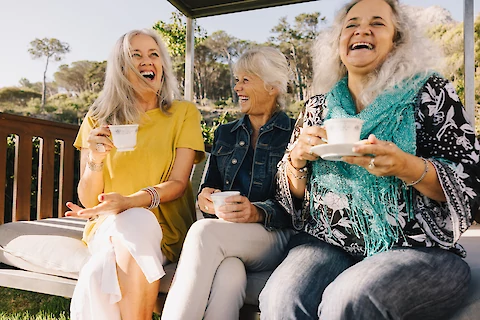 Mother's Day is a special time to celebrate the amazing women in our lives, but not everyone can spend the day with their children or families. If you're a senior woman living far away from your family or have local friends in the same boat, there are still plenty of ways to make the most of this heartwarming holiday. 
Here are some fun and creative ideas for celebrating Mother's Day with your local friends, whether you're a group of seniors or an intergenerational friend group. Grab your favorite ladies and make this Mother's Day one to remember!
6 Ways to Celebrate Mother's Day With Friends
Organize a Potluck Brunch
One fantastic way to celebrate Mother's Day with your friends is to organize a potluck brunch. Hosting this gathering at a local park or community center adds a picturesque element to the celebration. 
Invite friends and neighbors to bring their favorite dishes and gather together to enjoy a delicious meal. During the brunch, encourage everyone to share stories and memories of motherhood.
Attend a Mother's Day Event
Another option is researching and attending a Mother's Day event in Marin County. There are many festive events, from afternoon teas at local tea rooms or gardens to concerts and performances dedicated to moms. Make a group reservation and enjoy a lovely day out with your friends, creating new memories together on this special day.
Plan a Day Trip
Planning a day trip with your friends is also a grand celebration of Mother's Day. Explore nearby attractions like Muir Woods National Monument, Point Reyes National Seashore, or even venture to the Napa Valley wine country. Arrange for transportation by carpooling or hiring a shuttle, so everyone can relax and enjoy the sights together.
Host a Movie Marathon
For a cozy gathering at home, consider hosting a movie marathon featuring classic films with strong mothers or mother-daughter relationships. Invite friends over for an afternoon of movies, snacks, and laughter. It's also an excellent opportunity to include intergenerational friends, as everyone can bond over the heartwarming stories on screen.
Go For a Spa Day
If relaxation and pampering sound appealing, organize a group spa day for you and your friends. Research local spas in Marin County that offer Mother's Day specials or packages, and book appointments for massages, facials, or other treatments. Nothing says "celebration" like a day of soothing treatments and bonding with friends.
Host a Game Night
Hosting a game night is another entertaining way to spend Mother's Day. Invite friends for an evening of board games, card games, or trivia. Encourage guests to bring their favorite games, and remember to include intergenerational friends for a lively and competitive night.
Let Our Team Help You Celebrate Every Day
Mother's Day is a time to celebrate the incredible women in our lives, even if we can't be with our adult children. By spending this special day with local friends, we can create new memories and enjoy the company of those close to us. 
And remember, if you or a loved one need assistance with daily activities or companionship, consider Senior Helpers Marin County. Our compassionate caregivers can help make every day feel like Mother's Day. Contact us today to learn more about our services in San Rafael, Belvedere Tiburon, Marin County, Mill Valley, and Sausalito. We can help care for the mothers in your life and ensure they are enjoying their senior years.