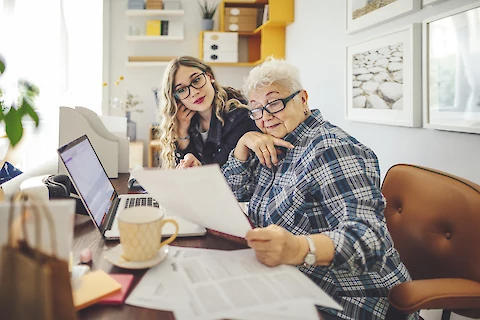 Filling taxes and doing all the paperwork to ensure that you get your taxes filed on time is already a huge headache to deal with. Unfortunately, there are also tax scams that you should worry about. And sadly, seniors are often specifically targeted by scammers because of their perceived vulnerability. 
In this blog post, we'll help you understand the risks of tax scams and equip you with the knowledge to recognize and avoid these malicious attempts to steal your personal information and hard-earned money.
Recognizing Tax Scams
Becoming familiar with the common signs of tax-related fraud is essential in protecting yourself from potential scams. Predators often use tactics such as impersonating IRS agents, posing as companies offering tax services, or exploiting your personal information to file fraudulent tax returns. Let's take a look at the different ways scammers can target seniors:
Email Scams
These scams are typically in the form of phishing emails that appear to be from the IRS or a reputable tax service provider. Be cautious of emails that request personal information, have unexpected attachments, or contain links to unknown websites. Remember, the IRS will never initiate contact through email.
Phone Scams
Criminals may call you, posing as IRS agents or tax professionals, and try to pressure you into sharing confidential information or making an immediate payment. Don't be fooled by caller ID. Scammers can manipulate it to display a genuine IRS phone number. Know that the IRS will first contact you through official letters in the mail, not by phone.
In-person Scams
In some cases, scammers may even show up at your doorstep, claiming to be IRS agents or tax professionals. Verify their credentials through the IRS website or by calling the IRS directly if you are unsure of their authenticity.
How to Avoid Tax Scams
Protecting your personal information and staying vigilant about potential scams is crucial in keeping yourself and your finances safe. Remember to keep your personal information secure.
Be cautious about sharing your personal information, especially your Social Security number or any financial details. Be selective about the websites you use, and make sure your computer and email accounts are protected by strong, unique passwords.
Always verify the authenticity of communications. If you receive a suspicious email, phone call, or in-person visit, don't hesitate to verify the sender's or caller's identity by contacting the IRS or the organization they claim to represent directly.
If you believe you have fallen victim to a tax scam, take the following steps immediately:
Contact the IRS: Alert them of the potential fraud and ask for assistance in resolving any issues with your account or tax return. You can call the IRS at 1-800-829-1040.
Report the scam to the FTC: File a complaint with the Federal Trade Commission at FTC.gov to help bring the scammers to justice.
Monitor your credit reports: Keep an eye on your credit reports from the three main credit bureaus (Equifax, Experian, and TransUnion) to check for any suspicious activity or unauthorized accounts.
Resources for Seniors
In addition to the IRS contact information mentioned earlier, there are local resources in our community to help seniors protect themselves from tax fraud. Look for educational workshops, support groups, or assistance from local senior centers, and don't hesitate to ask for help if you need it.
Senior Helpers Offers Premium Senior Care Services
Recognizing and avoiding tax scams targeting seniors is crucial in safeguarding your personal information and finances. By staying informed and taking the necessary precautions, we can keep our seniors in San Rafael, Belvedere Tiburon, Marin County, Mill Valley, and Sausalito safe during this tax season. If you or a loved one needs assistance or advice on protecting yourselves from potential tax scams, contact Senior Helpers Marin County. We're here to help!