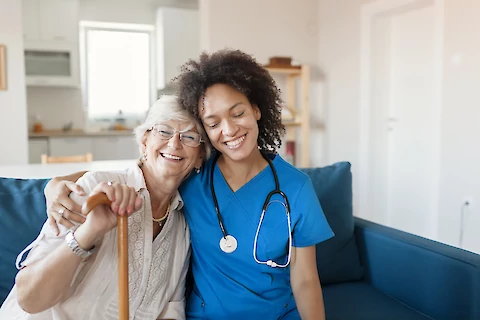 The role that caregivers play in our families should never go unnoticed. Whether it is a professional or family member caring for your elderly loved one, you need to make them feel that you recognize and appreciate their excellent work.
National Caregivers Day on the third Friday in February is not enough to express year-round gratitude for your caregiver's work. Every day can be your caregiver's appreciation day in the little ways that speak volumes. 
Here are the top five ways to show gratitude to your caregivers in San Mateo, Redwood City, Burlingame, and Millbrae, CA. 
1. Say It! 
Often, all you need to do is say thank you in the most straightforward way. Verbally thanking your caregivers helps to reinforce the fact that their work is essential. Words of affirmation coming from you matter a lot because it makes them feel valued. Always provide positive feedback and express gratitude for the modest things they do for you and your senior loved one.
2. Get To Know Your Caregiver
The best way to get to know your caregiver and show gratitude is to inquire about their lives outside work. Have a light conversation with your aides, asking them about their family, hobbies, or any aspect of their lives they are comfortable sharing. It would be nice to take note of their birthdays and personal tastes so you can surprise them once in a while.
They will feel valued if they see that you genuinely care about them. These concerns may seem simple, but the goal is to show your caregiver that you value them and not just their work.
3. Write a Thank You Note 
Write a heartwarming thank-you note in a few words to express your gratitude. A well-written note can make a significant impression on the recipient. Often, writing instead of speaking the words makes it simpler to show gratitude and keeps a record your aide will treasure. 
You can also express your love by giving one of the numerous lovely thank you cards available in your neighborhood store in San Mateo, Redwood City, Burlingame, and  Millbrae, CA.
4. Give Them a Gift Card 
A gift card is a simple way of expressing gratitude and giving them something useful immediately. You can award a gift card to their favorite restaurant or coffee shop or to a spa or nail salon your caregiver speaks highly of. 
Gift cards have endless options, but you can choose based on the conversations you've had with your elderly loved one's caregiver. You can offer to take care of their cell phone bill or gas cards as a token of appreciation. 
5. Promoting Self-Care 
Giving care is emotionally and physically taxing for caregivers. Please encourage them to take a break and care for their needs. You could plan a spa day to help the two of you unwind at a salon or even at home. Alternatively, you can offer your caregiver a gift basket full of self-care items, including movies they love to help them unwind quietly on their own.
The Bottom line
Spend a few moments in your day thanking those who care for your elderly loved one for the significant work they accomplish. It doesn't matter if it is professional care or care from a family member. Let them know you recognize and value them in simple, meaningful ways.
Contact senior helpers, the leading in-home elder care company in the country, with locations in San Mateo, Redwood City, Burlingame, and Millbrae, CA. We offer companion services for senior citizens searching for support with daily tasks and also specialist care for those living with chronic diseases.