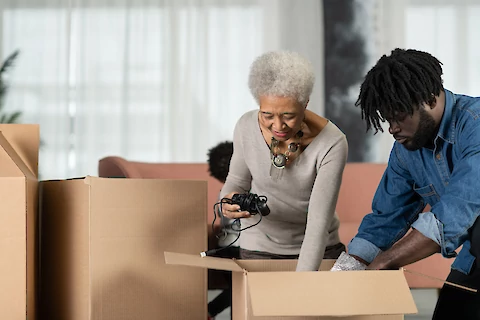 Are you one of the many retirees in San Mateo, Redwood City, Burlingame, or Millbrae looking to downsize your living space? If so, you might be feeling overwhelmed at the thought of packing and moving. But downsizing your home can be a great choice for retirees! Not only can it help you to save money and simplify your lifestyle, but it can also be an emotionally rewarding experience. 
Here at Senior Helpers San Mateo, we specialize in in-home senior care and have plenty of tips to help you through this transition. Read on for some key tips and advice to help you make your move as smooth as possible!
Benefits of Downsizing When Retired
There are several great benefits to downsizing when you're retired. First and foremost, downsizing can lead to significant financial savings. Reducing your living space can bring down your monthly utility bills, insurance, and property taxes. It can also minimize the cost of maintaining your home and yard and repairing large appliances. Emotionally, downsizing can make you feel lighter and freer. Living in a smaller space reduces stress and worry about home improvement or unexpected costs. Organizing and finding what you need when you need becomes easier.
Tips for Packing and Moving
Before you can move into your new home, you'll need to pack and move your belongings. Here are a few tips for making the process go more smoothly:
Go through and separate items — The best place to start is by decluttering and deciding what you want to take with you. Take the time to go through your items and separate what you need from what you don't. Cutting back on unnecessary possessions lightens the load and lets you move into your new space with a clean slate.
Donate what you can — Donating can be a great way to help those in need and to reduce the amount of stuff you will have to move. Local charitable organizations or shelters in the San Mateo area will appreciate what you can give.
Get the right moving supplies — Plan ahead by making sure you have the right moving supplies on hand. Invest in quality boxes, tape, markers, and packing materials so your items arrive safely when you move. 
Consider hiring professional movers — Hiring professional movers to get the job done might be one of the smartest things you do. Remove stress and leave the heavy lifting to an efficient household moving team.
Tips for Finding a Smaller Home
Finding the right home for you is a key part of downsizing. Take the time to get to know your ideal neighborhood and consider your needs. How much space do you need? Do you want a yard? What type of community amenities is important to you? Make sure you also think about your budget. Figure out what you can afford and be honest with yourself about what you can and cannot spend.
Need Help to Downsize?
Downsizing your living space as you transition into retirement can bring wonderful financial and emotional benefits. Keep these tips in mind to make your move as stress-free as possible. If you need additional help and support, Senior Helpers San Mateo is here to provide in-home senior care and assistance. Contact us today to learn more about how we can help you with your move!