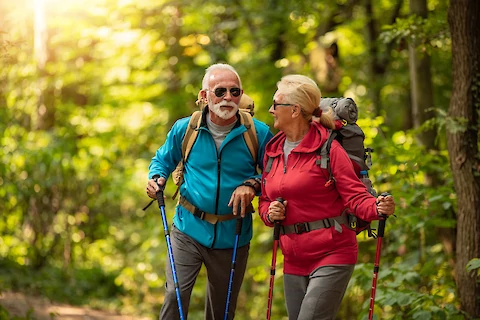 Living alone as we age can be a lonely experience as it often means saying goodbye to the many activities, hobbies, and adventures we used to share with friends and family. Thankfully, outdoor recreation can help mitigate that loneliness and improve the physical and mental well-being of seniors. Senior Helpers San Mateo specializes in in-home senior care, and we are proud to be part of the beneficial outdoor recreation activities seniors enjoy. In this blog, we provide preparation and safety tips to ensure a positive and fun adventure.
Benefits of Outdoor Recreation for Senior Citizens Who Live Alone
Getting outside and enjoying nature can be incredibly therapeutic, especially for seniors who may be feeling lonely or isolated. Spending time outdoors can provide numerous physical and mental health benefits, including improved cognitive function, reduced stress, and increased energy. Additionally, outdoor recreation is a great way for seniors to participate in activities that foster social interaction and connection with other seniors and fellow outdoor enthusiasts. 
Types of Outdoor Recreation
The beauty of outdoor recreation is that there is something for everyone, no matter your age or activity level. Here are some popular outdoor recreation activities ideal for seniors who want to spend time in nature:
Hiking and Camping —This can range from a simple day hike to an overnight camping trip. Several local parks provide walking trails and camping facilities.
Fishing — Fishing is a fun and relaxing activity that encourages patience and observation. It offers the opportunity to engage with the natural environment.
Gardening — Gardening allows seniors to enjoy a creative and calming outdoor activity. 
Birdwatching — Birdwatching can bring a sense of joy and connection to the outdoors. It's a great way to learn new and interesting facts about the feathered creatures we share the world with.
Nature Photography — Photographing nature allows seniors to document their outdoor experiences and connect with nature in an innovative way. 
Preparation Tips for Senior Citizens Who Live Alone
Before heading outside, seniors should research and check the regulations of the area and familiarize themselves with the location and layout of local trails and parks. It is recommended that you inform someone of your plans and bring sufficient supplies for the duration of the activity. Seniors should also dress appropriately for the climate, wear sunscreen, and check the weather conditions to ensure a safe and enjoyable experience. 
Safety should always be a priority for seniors who live alone, which is why it is important to be prepared and know the risks before embarking on an outdoor recreation activity. Joining a group is a great way to ensure safety, as is bringing a cell phone in case of an emergency. Seniors should also be aware of their surroundings, wear protective gear, and be mindful of their limitations. 
Support for Senior Citizens Who Live Alone
Outdoor recreation is an excellent way for seniors who live alone to stay active, engaged, and socially connected. At Senior Helpers San Mateo, we are dedicated to helping seniors in San Mateo, Redwood City, Burlingame, or Millbrae enjoy life with dignity and respect. If you need assistance preparing for your next outdoor adventure, please don't hesitate to contact us.