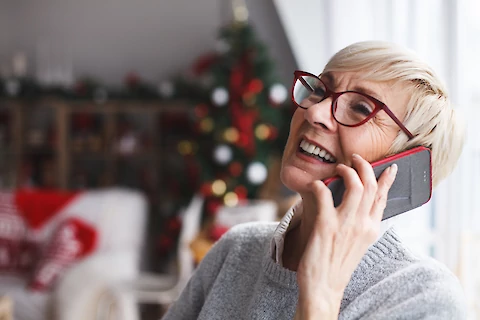 The holidays are about connecting with the people we love, and the seniors in our lives deserve a little extra attention. While it's tempting to knock out a few calls while sitting in traffic on Highway 82, there are better approaches than that. Nobody likes to feel they're an afterthought, and with some planning, everyone will get more enjoyment out of the interaction.
Here are some tips that can help make those holiday calls to senior friends and family members more meaningful for everyone.
Set Aside Time When There Will Be the Least Distraction
Seniors' family members should choose a time when they can sit down and give 100% of their attention to each call. They might decide to reach out to their loved ones in advance—through email, Facebook Messenger, or a quick call—and set up a phone "date". Senior loved ones will likely see it as a courtesy; after all, they have busy lives too, and they might want to prepare themselves for a long chat.
If one has kids or a partner who might want to hop on and say hello, they should plan to do so earlier in the call than later—that way, they won't be hovering and can occupy themselves elsewhere when they're done with the call.
Manage Seniors' Expectations for the Call's Duration
Those with the luxury of setting up a phone call in advance might feel awkward trying to set an end time as they want to avoid treating the conversation like an appointment. However, it's easy for a 30-minute phone call to turn into a marathon without some boundaries. When setting up a pre-planned phone call, caretakers can always say, "I'd love to chat with you sometime this week; let me know when you have (insert an appropriate length of time)!"
For those who have found time for an impromptu call, saying "I have an hour before XXX and I want to catch up with you! Is this a good time for you to talk?" is a great way to let a senior loved one know that they're important, while subtly letting them know how long to expect the call to last. It also shows them that their time is valuable and their availability isn't taken for granted. All the same, it's essential to try not to make it sound like the senior is an afterthought.
Tips for Keeping the Conversation Going
It's okay not to know what to talk about when on the phone with a senior. Callers can jot down some ideas to serve as prompts, avoiding those awkward silences. Sometimes, people just want someone to listen to them, and it's best to let the senior loved one take the lead.
Social Calls Double as Wellness Checks
Keep an ear out for subtle cues that a senior loved one needs more than the occasional phone call: Do they seem depressed and lonely? Are they struggling with self-care? Do they give the impression they need help around their home?
They might benefit from Senior Helpers' in-home services if they live in San Mateo, Redwood City, Burlingame, or Millbrae. Contact us to learn more about what we can do to enrich a favorite Senior's life, from help getting to appointments, medication assistance, and even short-term respite or long-term memory care. We can even help with that difficult conversation with a loved one so they feel more comfortable accepting the help they deserve.