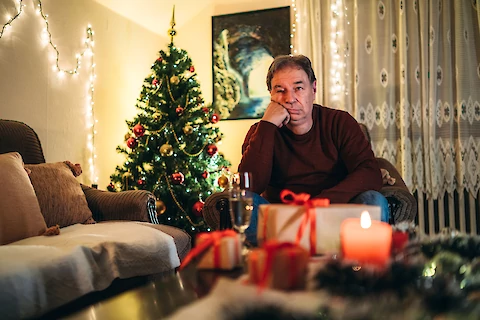 For most seniors, the holidays are different from what they were in the past. While it's true that the holiday season is about get-togethers, celebrations, and festivities, this is only sometimes the case for seniors. Many older adults suffer feelings of loneliness, disconnection, and sadness each year around this time.
Holiday Depression in Seniors 
Holiday depression in older adults is often overlooked. For seniors, the holidays can be a sorrowful and trying time of year, especially if they've lost their spouse, their family is far away, or their long-standing holiday traditions have been abandoned. For various reasons, the holidays can bring on feelings of loneliness, depression, and isolation. 
Common Causes of Holiday Depression
The elderly can experience depression during the holidays for several reasons. Here are some of the different things that can trigger holiday depression in seniors:
Seniors often feel abandoned when forced to live alone during the holidays since their friends' and family members' schedules have gotten busier.
When holiday customs or activities observed in the past are changed or abandoned, seniors become more vulnerable to holiday depression.
Seniors with long-term conditions, declining health, decreased mobility, or physical limitations are particularly susceptible to holiday depression.
Seniors unable to participate in activities that used to bring them together with other people can easily slide into loneliness and holiday depression.
Signs of Seasonal Depression
Some of the signs and symptoms of seasonal depression include:
Seniors with seasonal depression often feel exhausted and have trouble sleeping.
Noticeable changes in a senior's sleeping habits.
The senior shows a loss of interest in social activities they previously used to enjoy.
The senior experience appetite changes.
The seniors feel like a burden to their loved ones.
The senior withdraws and avoids communication with people who are closest to them.
If you believe a senior you care about has holiday depression, take action right away.
How to Combat Holiday Depression in Seniors 
It's important to support seniors and help them combat holiday depression symptoms. Here are a few tips to helpfully address the signs of seasonal depression and resolve it:
Getting a senior to exercise at home or outside can assist if you observe that their holiday blues result from inactivity.
Talking to an older adult who frequently goes days without communicating with anyone during the holidays can give them the impression that they haven't been forgotten.
Figuring out what a particular senior likes as a hobby and gifting them something that inspires them to interact with others more could help.
You can help seniors reconnect with loved ones even when they aren't present by recollecting the best moments and memories from previous holiday seasons with them.
It might be a good idea to assist a senior in creating a new tradition that they can participate in if they won't be able to celebrate their traditional holiday customs this year. 
How to Talk to a Senior About Holiday Depression
Here are a couple of tips to help you steer a productive conversation:
Select a one-on-one setting.
Bring up recent developments in their lives to start a casual conversation regarding holiday depression.
Direct the conversation toward the senior's private life and allow them to open up about their experiences during previous and current holiday seasons.
Emphasize that you're always available for them if they need assistance overcoming and that they can always turn to you for support.
Senior Helpers San Mateo can assist if you or a loved one is affected by seasonal depression. Our service areas include San Mateo, Redwood City, Burlingame, and Millbrae, CA. Contact us today to learn more about how we can help with senior depression during the holidays.