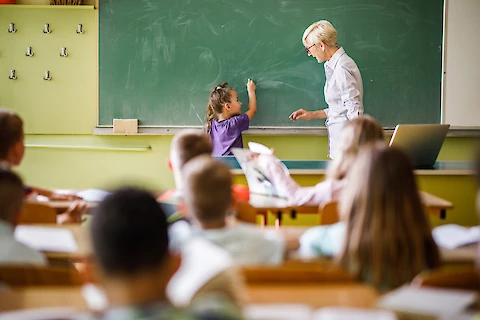 Social interaction is important for everyone, especially seniors, who sometimes feel isolated. Activities such as volunteering at schools and after-school groups for seniors can help to increase social interaction. Thus, creating a positive mental and physical effect on seniors. Volunteering is an excellent way for seniors to do something good for the community and themselves. After-school groups for seniors also provide a way for seniors to participate in clubs that foster their passions and interests. They can also help to propagate positive physical and mental wellness.
San Mateo is a lovely town with a plethora of opportunities for seniors to engage in volunteer opportunities, as well as after-school groups, and enjoy the beauty of San Mateo.Senior Helpers San Mateo can help your senior to find great opportunities to interact and create overall wellness through social interaction.
Volunteering at Schools
Volunteering at schools is a wonderful way for seniors to share their experience and their knowledge with a younger generation. By volunteering at schools, seniors can pass along valuable life lessons and make history come alive for younger people. This sharing of knowledge helps seniors to make connections and fosters a sense of mental and emotional well-being. Additionally, they are helping students to grow and learn in a way that goes far beyond textbooks. San Mateo, Redwood City, and the surrounding area are rich in history and culture. Thus, providing opportunities for seniors to take volunteering at schools to the next level by helping to bring the local, and surrounding history to life. 
After-School Groups for Seniors
After-school groups for seniors, often called Social Senior Clubs, offer another wonderful way for seniors to interact. They can make connections that are imperative to their mental and physical well-being. Further, after-school groups promote different activities and clubs to help seniors find things they are passionate about. These groups often are split into smaller clubs, such as a Travel Club, Book Club, or Sports Club.Senior Helpers of San Mateo can help your senior to identify, and join, some clubs they may be interested in, as well as encourage your senior to interact with others and get moving, helping to foster overall wellness in your senior.
Find Opportunities for Volunteering at Schools and After-School Groups for Seniors
Interacting with other people and building relationships is important for both the mental and physical well-being, of everyone, especially seniors. Volunteering at schools gives seniors a chance to share their stories and their experiences, as well as form connections and bonds with people of younger generations. After-school groups are another way seniors can participate in something that interests them.
Senior Helpers of San Mateo provides personalized in-home care that ranges from companion care for seniors who need a little help with their day-to-day activities, to more comprehensive and individualized care for those with chronic diseases, such as Alzheimer's or Dementia.Contact us to learn more.