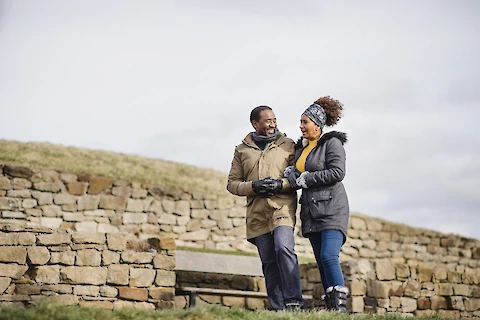 We are in fall, and winter is lurking just around the corner. That means we will be experiencing cooler mornings and shorter days – earlier sunsets – during the season. Seniors in San Mateo, CA, who've been taking walks to maintain physical fitness may be experiencing the health and wellness benefits of walking. The cold season shouldn't deter them from taking their routine walks. Here are four tips to help senior citizens maintain their daily walk.
1. Wear Shoes With Good Grip on a Daily Walk
While California doesn't see much ice or snow during winter, it gets 75% of its annual rainfall between November and March. The increase in precipitation makes sidewalks slippery, presenting safety risks among seniors. There's a high likelihood of slipping, tripping, or falling, which can result in fractures and other injuries. The kind of footwear that the elderly wears during walks matters a lot.
Wearing shoes designed for outdoor winter conditions is a way seniors in Redwood City, CA, can stay safe. Some factors to consider when choosing the proper footwear for a daily walk include:
Tread – Shoes with rubber soles, deep treads, and lower heels are the best for avoiding slips on icy surfaces. Avoid leather soles, sneakers, or high heels.
Lining – Cold feet can weaken a senior citizen's immunity, resulting in severe health problems among those living with diabetes. Wearing shoes with fabric that promotes insulation keeps feet warm and dry, thus preventing sickness and injury.
Size and Fit – Winter boots need enough room to enable an elderly loved one to wear thick socks without compromising comfort. They should be tall enough to also protect the ankles from cold.
Ice Cleats – Besides deep treads, senior clients should combine their shoes with easy-to-use and lightweight slip-on cleats to enhance traction, especially during snowy weather.  
2. Walk With a Caregiver Instead of Going Alone
While walking in the morning and evening helps maintain health and fitness as one ages, many seniors in Millbrae find the morning air too cold or sunsets come too early, thus interrupting their usual walking routines.
In such cases, Senior Helpers® San Mateo recommends they take gentle daily walks in the company of a caregiver instead of going alone. A caregiver can provide vital companionship and mental stimulation by holding conversations with them. Thus, ensuring they are comfortable and safe as they walk.
3. Dress Warmly
The cold mornings and early sunsets in winter present a challenge to seniors because their bodies lose heat faster than they would in their youth. Changes in the body due to aging can make it difficult for them to realize they are getting cold. That can lead to severe hypothermia, which, in turn, can cause health issues, such as kidney problems, heart attack, liver damage, etc. Therefore, persons over 65 living in Burlingame must be layered for the cold weather when going for a morning or evening walk.
Some tips to help keep warm include:
Bringing a spare waterproof jacket or coat
Wearing a hat, scarf, and gloves. Seniors tend to lose a lot of body heat when the head or neck is uncovered.
Wearing loose layers of clothing; the air between the clothes acts as an insulating film, helping to maintain body warmth.
Changing your clothes immediately if they get clammy or wet
4. Tak a Daily Walk on Clear Trails
Earlier sunset reduces visibility, and that's a problem for seniors taking evening walks. Caregivers should look for trails with no traffic flow or no obstacles, such as rocks or fallen trees, which can present safety hazards.
Equipping oneself with a high-intensity flashlight can come in handy when a senior needs to illuminate their way. It would also be best for them to wear a reflective jacket for easy identification by motorists.
Let Senior Helpers® San Mateo Take Care of Your Elderly Loved One With Our In-Home Senior Care
At Senior Helpers® San Mateo, we are dedicated to providing personalized homecare for seniors, enabling them to live independently at home or in an assisted living community. We offer professional and trained caregivers, personal care aides, and Certified Nursing Assistants (CNAs) who can assist your elderly loved one with activities of daily living (ADLs), from taking walks, meal preparations, and eating to bathing, dressing, and reminding our clients to take their medications. Contact us today to set your senior loved one up for high-quality, personalized, and client-focused homecare.