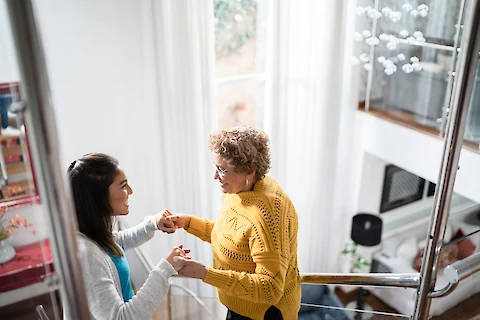 A Parkinson's disease diagnosis is a daunting and uncertain period for individuals and their families. Many questions will arise, such as, "How did this disease develop?" Will things ever improve? Is it possible to live a functional life? All of these are genuine questions that require answers. Many in-home care services can assist individuals with Parkinson's disease to live a better and more pleasant life than they would if they stayed alone, but in other cases, finding a caregiver that excels in dealing with persons with Parkinson's disease may be an even better alternative. This kind of assistance is focused on giving elders with Parkinson's disease the proper forms of mobility support they might need to lead reasonably normal lives and stay in their homes as long as possible.
What Is Parkinson's Disease?
Parkinson's disease is a slow, gradual condition where sections of the brain degenerate, causing the muscles to become rigid. It has three primary symptoms that affect a person's life: tremors or shaking that can become uncontrollable as the illness advances, slow movement, and rigidity or muscular stiffness, all of which provide challenges for daily functioning if not well-supported.
Parkinson's Disease Signs and Symptoms
Parkinson's disease impacts how the brain and nervous system coordinate bodily movements. Unfortunately, as the condition progresses, muscle mobility and control deteriorate. Your loved one may have slow-onset Parkinson's symptoms. The first indicator might be a barely perceptible shaking. Tremors are a typical early symptom, although other indications of this condition include slowed mobility and stiffness. Early symptoms include a lack of facial expression, stiffness in the arms as they walk, and slurred or quiet speech from your loved one.
Getting Started With Home In-Home Care for Parkinson's Disease
If your loved one has difficulty with basic daily tasks like washing and housekeeping, this service could be particularly beneficial if you do not live with them or are incapable of helping them handle these responsibilities on your own. Even though you might be able to help them out plenty in the beginning, especially if you live with them or are extremely close to them, it might become more difficult to continue as the disease worsens.
Losing one's independence is difficult, which is why Parkinson's Disease could be made harder when a loved one is unwilling to accept aid. Our primary aim is to make sure your loved one is happy, comfortable, and well-cared for. Our Burlingame Senior Helpers provide you with the sense of peace you need while recognizing your loved one's desire to stay at home. Our comprehensive selection of services guarantees that your loved one receives the care they need. Because Parkinson's affects everyone differently, the best time to explore outside support options is before you truly need them.
Do You Need Support for a Loved One With Parkinson's in San Mateo, CA?
Parkinson's is a progressive disease; therefore, your loved one's care needs will vary as the disease progresses. Family members may soon experience significant levels of stress and burnout due to providing care for a loved one with Parkinson's disease. Our Senior Helpers caregivers at Redwood City receive specialized training and instruction in Parkinson's disease care. Get in touch with Senior Helpers today to learn more about how we can support your loved one as Parkinson's disease advances.