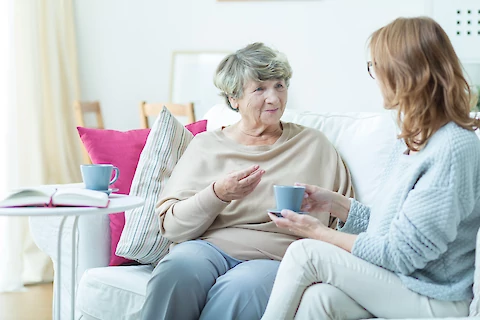 The increasing number of aging individuals isn't just a challenge for healthcare providers and government policymakers. It affects many people, including the adult children of seniors. Taking care of seniors can be challenging, especially when they have other responsibilities away from home. Over time, this can lead to frustration or even resentment.
However, it doesn't have to be this way. Adult children can take various measures to ensure their senior loved ones live comfortably, happily, and independently, so that taking care of elderly parents never feels like a chore.
Practice Mindful Communication
No matter where adult children stay, they should try to stay in touch with their senior loved ones on a regular basis. Mindful communication is also important. With tools that make it easier to stay in touch, chatting with senior loved ones is a pleasure and not a chore. These tools could include video messaging apps like Skype or Google Meet, or just a simple text message schedule that works for everyone involved.
Work with Other Relatives
A senior loved one may require a lot of attention, especially if there are health challenges to consider. If this is the case, adult children can work with other relatives to find workable solutions to help their senior loved one stay comfortable. Relatives can help the adult children occasionally check on their parents and ensure they have the support they need. For instance, the relatives might offer to come over once a week and help run errands or household chores. Family friends are another alternative. If you have longtime friends who are close to your parents, consider asking them to stop in on occasion or even bring by lunch sometime to share with your parent. 
Understand Their Medical Needs
Many senior citizens have various age-related illnesses and health conditions that require care, support, and attention. Adult children can stay involved in the health of their senior loved ones without it feeling like a chore by taking part in that regime. They could attend doctor's appointments, become comfortable with a senior's medication schedule, and encourage their senior loved one to get proactive with their health. This way, staying involved will feel more like a social activity and less like a chore.
Coordinate Senior Care
Checking on a senior loved one on a regular basis can be a challenge, especially for adult children who have busy schedules. If things start to feel too demanding, it is a good idea to involve a professional caretaker to help care for their senior loved one. A caretaker with experience in the field understands various challenges and seniors' needs and can help take care of a senior loved one. They can also coordinate care with adult children, to ensure that seniors never feel like a burden or a chore.
Professional Caretakers From Senior Helpers San Mateo
Seeking professional help from a caretaker can be a life-changing experience. A professional caregiver can help keep a senior loved one's days stress-free and keep adult children from worrying about the health and safety of their elderly parents. If you are looking for a professional caretaker in San Mateo, Senior Helpers San Mateo can help. We also offer various services for your senior loved ones in Redwood City, Burlingame, and Millbrae, CA. Contact us today to learn more about our services!