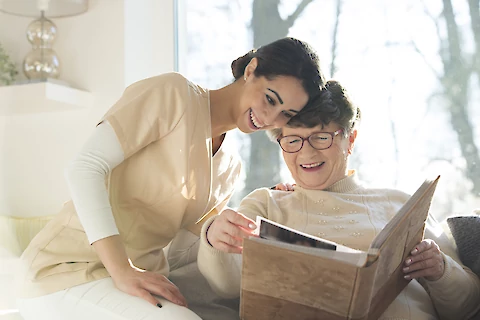 Alzheimer's is a progressive brain disorder that causes brain cells to die. As a result, a person's memory, thinking skills, and behavior are affected. While it can affect young people, it's more prevalent in seniors above 65. According to the CDC, the number of seniors living with Alzheimer's doubles every five years and is expected to triple from 5.8 million to 14 million by 2060.
However, new insights about Alzheimer's may help reduce its progression. If you are concerned about this neurodegenerative disease affecting your senior loved one in San Mateo, Redwood City, Burlingame, and Millbrae, read on.
Healthy Habits Prolong the Brain Health Regardless of Genetics
According to a study from The University of Mississippi Medical Center, observing simple habits might prolong brain health. Going by the claim, people who observed the American Heart Association's (AHA) Life's Simple seven recommendations in midlife had lower chances of dementia in their golden years. This effect also held up for people with a higher genetic risk of Alzheimer's.
The AHA guidelines include the following:
Getting physically active
Eating the right diet
Maintaining the ideal body weight
Managing blood pressure
Avoid smoking
Lowering cholesterol
However, the research was not comprehensive on whether seniors with increased genetic risk of Alzheimer's would benefit from these guidelines.
There Could Be Potential Causes of Alzheimer's
For years, scientists have focused on amyloid plaques and neurofibrillary as the key features of Alzheimer's disease. However, today, the focus is shifting to other potential causes.
According to Maria Carrillo, tangles and plaques are the hallmarks, but there aren't many details explaining why the two damage the brain cells. According to the officer, more research will provide a comprehensive understanding of the disease.
New Insights About Alzheimer's Show There is Hope for New Treatment
Currently, there are several Alzheimer's treatments in clinical trials. Among them is one for lecanemab, a monoclonal antibody drug that has shown some progress and has been granted priority review status by the U.S Food and Drug Administration.
The FDA has also agreed to an expedited review of donanemab and gantenerumab treatments. The three treatments focus on amyloid beta, a protein that collects in sticky plaques in the brain.
Scientists have also developed a new way of identifying individuals with a high genetic risk during the presymptomatic phase of Alzheimer's. The new method will help them discover new protein-based biomarkers in the early stages of disease progression.
Covid-19 Could Increase the Risk of Developing Alzheimer's
A recent study shows that severe acute respiratory syndrome coronavirus 2 (SARS-CoV-2 may trigger the development of New Onset Alzheimer's disease. The research done on 6.2 million seniors over 65 years showed that seniors with COVID-19 were at a higher risk for a new diagnosis of Alzheimer's disease within a year.
However, while it's still unclear whether SAR-CoV-2 infections increase the risk of developing Alzheimer's, the heightened risk of SARS-CoV-2 infections amid Alzheimer's patients and lasting neurological sequelae of COVID-19 is suggestive of a two-way connection between SARS-CoV-2 infections and Alzheimer's.
Early Symptoms of Alzheimer's to Look Out for
Here are early indicators that your senior loved one may be experiencing early signs of Alzheimer's.
They show poor judgment
They are more hesitant to try new things
They ask questions repetitively
They forgetful about the names of places, objects, or any recent event
Alzheimer's Care Tips
If you are taking an active role in the care and routine of a senior with Alzheimer's, you need to:
Create a safe environment to reduce a loved one's risk of injury
Focus on a customized care plan because each loved one living with Alzheimer's will experience its progression and symptoms differently
Limit challenges and frustrations because seniors with Alzheimer's get agitated when they encounter a difficult task.
Let Senior Helpers Professionals Help You
While taking care of a senior loved one is fulfilling, keeping up with new developments concerning their well-being helps caregivers update their skills to meet the needs of the seniors better. If you are looking for professional in-home care, we can help. At Senior Helpers San Mateo, we are the premier provider of senior care around San Mateo, Redwood City, Burlingame, and Millbrae.
We provide tailored services ranging from companion care for a senior loved one who needs daily help to in-depth specialized care for seniors with Alzheimer's, Parkinson's, and Dementia. So, feel free to contact us for assistance.