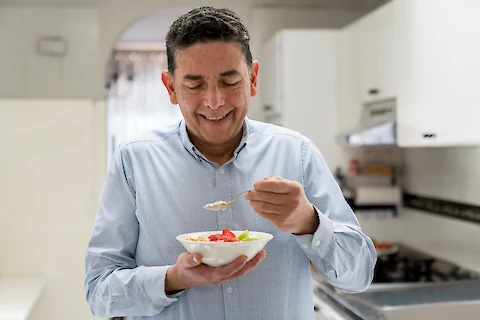 Seniors should start the day off right by eating a healthy breakfast. Even if you're on a tight budget, there are plenty of nutritious and delicious options you can try. As a home care provider in San Luis Obispo County, Senior Helpers wants to help by offering a list of five of the healthiest and most affordable breakfasts for seniors. From oatmeal with fruit to a smoothie bowl, you'll find plenty of options that work for your budget and health. Keep reading to learn more about the health benefits of a nutritious breakfast and some of the best breakfast ideas for seniors.
Benefits of Eating a Healthy Breakfast
When you're a senior, it's especially important to fuel your body in the morning with the right foods. Eating a nutritious breakfast can have several health benefits. Here are a few of the biggest benefits of eating a healthy breakfast:
Improved Cognitive Function — Eating a nutritious breakfast improves mental clarity, focus, and concentration - all of which can be especially beneficial for seniors.
Improved Mood  — Eating a healthy breakfast helps boost your mood and helps you stay positive and energized throughout the day.
Increased Energy — Eating a healthy breakfast fuels your body with the energy you need to power through your day.
Improved Nutrition — Eating a nutritious breakfast helps supply your body with the essential vitamins and minerals needed to support overall health and wellness.
Healthy Breakfast Ideas for Seniors on a Budget
 You can still make delicious and nutritious breakfasts for yourself even if you are on a tight budget. Here are some of the healthiest breakfast ideas seniors are sure to love:
Oatmeal with Fruit — Oatmeal is a great breakfast option for seniors because it's full of fiber and other nutrients. Top it with your favorite fruits to make it even more nutritious.
Egg and Veggie Scramble — Eggs are a great source of protein, vitamins, and other nutrients. They are also a budget-friendly choice. Make a scramble with your favorite veggies for added flavor.
Yogurt Parfait — Yogurt parfaits are another great breakfast idea for seniors. Layer yogurt with some granola, nuts, and your favorite fruits for a delicious and nutritious breakfast.
Whole Grain Toast with Peanut Butter — Whole grain toast with peanut butter is a tasty way to fuel your body with fiber and healthy fats.
Smoothie Bowl — Smoothies are a perfect way to start your day. They are easy to whip up in minutes and have all kinds of creative options. Add a variety of fruits, vegetables, nuts, and seeds to make it even more nutritious.
Choose Senior Helpers for the Best In-Home Care Services
Eating a healthy breakfast is an important part of maintaining good health as a senior. There are several breakfast meals you can prepare that are as affordable as they are delectable. If you're a senior in San Luis Obispo County and need help with meal prep or any other home care services, be sure to contact Senior Helpers San Luis Obispo County. We're here to help you and your family get the home care assistance you need.