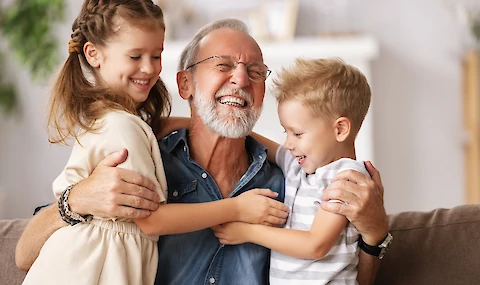 On Father's Day, we honor our fathers and grandfathers for their love, dedication, and sacrifices. As they age and face health challenges, this particular day may become more poignant for adult children who want to make it memorable and meaningful. If you're an adult child of an aging parent or grandparent, you may need clarification about making this Father's Day special while being mindful of your loved one's health concerns. This blog provides a supportive guide to help you create a memorable Father's Day celebration for your senior father or grandfather while addressing and acknowledging your concerns.
Understand the Needs and Limitations of Your Aging Father
Before planning any activities, it's essential to understand your father or grandfather's specific needs and limitations. Health concerns, such as mobility issues, cognitive decline, or chronic illness, will undoubtedly affect their ability to participate in certain activities. Ensure you communicate openly and empathetically with your loved one, considering their preferences and needs when planning the special day.
Activities to Make Father's Day Special
Consider the following ideas below to make Father's Day special:
A heartwarming way to celebrate Father's Day is by reminiscing and sharing memories. Flip through old photo albums or watch family videos together to rekindle pleasant moments of the past. Share stories of special times you've shared, and create a memory jar or scrapbook filled with cherished memories and milestones.
Choose gentle and enjoyable activities that cater to your loved one's interests. Watch a favorite movie or sports game together, or put on some tunes and listen to their all-time favorite music. You can even attend a live performance if possible. Engaging in low-key activities, like playing a board game or an easy card game, can bring joy and a sense of connection.
Connections with family and friends are crucial for emotional well-being, so consider organizing a small family gathering or virtual call with loved ones who can't attend in person. This gathering may involve inviting close friends to visit or join the celebrations. Encourage grandchildren to participate by creating unique cards or artwork to present to their grandfather as a heartfelt gift.
Food plays a significant role in celebrations, so plan a special meal for your father or grandfather. Prepare a favorite home-cooked dish or order from their preferred restaurant, and incorporate a special dessert to top the meal off. If weather and health permit, consider arranging an outdoor picnic or meal to enjoy nature together.
Create Lasting Memories for Everyone
While celebrating, take photos and record videos to capture the precious moments spent together. Encourage family members to write heartfelt letters or notes expressing their love and gratitude. These small acts create a keepsake for your loved one to cherish and allow you to hold onto the memories of that special day.
Regardless of your chosen activities, remember that quality time and genuine connection are the most valuable aspects of any celebration. Focus on creating an atmosphere of warmth and love that will fill the hearts of your whole family.
Support and Resources for Adult Children
Navigating the emotional terrain of caring for an aging parent may represent a challenge, so don't hesitate to seek help. Consult healthcare professionals for guidance on practical activities and seek support from online communities or local support groups. Finally, consider professional caregiving services to support your loved one.
We Want to Help
Celebrating Father's Day with your aging parent or grandparent is an excellent opportunity to express your love and create lasting memories. Planning an event that considers their needs and preferences will make a day filled with joy, connection, and meaning. For those living in San Luis Obispo, Paso Robles, and Arroyo Grande, contact us at Senior Helpers San Luis Obispo County for professional caregiving services to support your family during this time. Let's make this Father's Day one to remember.