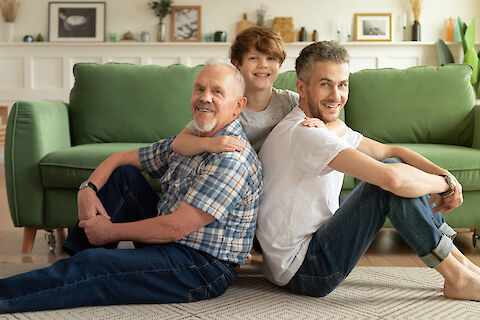 On Father's Day, we honor the dads in our lives and create lasting memories together. For adult sons with children of their own and senior fathers, planning a multi-generation celebration brings excitement and challenges. This guide explores helpful tips on creating a memorable Father's Day event that caters to each generation's different needs and preferences while ensuring you have a fantastic time.
Schedule Different Events
When planning a multi-generation Father's Day celebration, it's essential to consider the needs and preferences of each generation. To do this, think about the best time of day for different activities and whether they prefer active or relaxing events or indoor or outdoor activities. Communication is vital, so engage with family members to determine a suitable time and event for everyone.
To ensure your celebration runs smoothly, create a schedule that allocates time for each planned event. Remember to include breaks to rest and recharge and travel time between activities, if needed.
Plan a Group Event
One way to have everyone together involves planning a group event that appeals to all generations. A few ideas for a group gathering include a family meal at a favorite restaurant, a picnic at a nearby park, or a movie night at home. When selecting your activity, consider the accessibility and comfort of elderly family members. Choose a location with wheelchair access, if needed, and ensure that seating and rest areas are readily available.
To make your group event more meaningful, encourage involvement from all family members. Assign tasks or roles to each person, and create opportunities for bonding and sharing stories that strengthen your family connections.
Balance Celebrations With In-Laws and Other Family Groups
We should consider additional "sets" of celebratory groups, such as in-laws, during Father's Day. Communicate with all parties involved to balance everyone's schedules to avoid conflicts. Consider celebrating on different days or other times to accommodate everyone's plans. If possible and agreeable to all, you may combine celebrations into one event, creating a more extensive gathering for everyone to enjoy.
Ensure the Adult Son Feels Celebrated
While planning and coordinating a multi-generation Father's Day celebration, it's crucial not to forget about yourself. Assign tasks and responsibilities to other family members to lessen your workload and stress levels. Set aside some time for self-care and relaxation, either before or after the festivities.
During the celebration, focus on the joy of spending time with your family and creating cherished memories. Remember that Father's Day is about honoring all the dads in your life, including yourself, so take a moment to enjoy and appreciate your role as a loving father and son.
We Can Help
A multi-generation Father's Day celebration is a wonderful way to bring the whole family together and create unforgettable memories. By considering the needs of each generation, planning a group event, and balancing additional family celebrations, you will ensure a successful and enjoyable day for all.
If you're looking for assistance in caring for your elderly father in San Luis Obispo, Santa Maria, Atascadero, Paso Robles, or Arroyo Grande, contact us at Senior Helpers San Luis Obispo County. We provide professional and compassionate care, allowing you to focus on celebrating Father's Day with your loved ones.