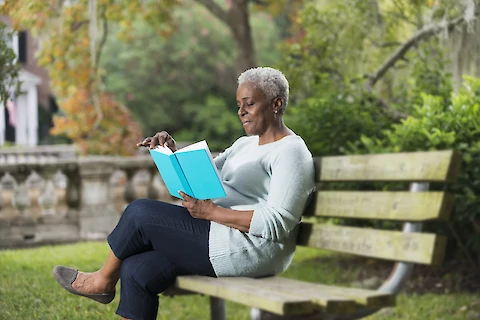 Are you caretaking for a senior loved one? Then you should prioritize keeping their minds sharp and active, and you know that engaging in mental hobbies can significantly affect seniors' quality of life and maintain good mental health. Need some inspiration? This guide will provide practical tips and resources for promoting mental stimulation in the lives of the seniors you care for, whether you are an adult child supporting your senior relatives or a caregiver looking for new ways to keep your clients engaged.
A Broad Spectrum of Engaging Activities
Hobbies can cater to different interests while stimulating the brain. Here's a list of solo and group activities available in San Luis Obispo County. 
Arts and Crafts
Activities like painting, drawing, or sculpting can improve focus and enhance fine motor skills. Consider enrolling your senior loved one in local art classes or exploring online art tutorials for inspiration.
Music
Playing an instrument or singing can help with memory retention, coordination, and emotional expression. Local music lessons or online courses provide the necessary guidance for seniors to develop their musical talents.
Reading and Writing
These activities can keep cognitive functions sharp while fostering creativity and communication skills. Joining a book club or writing group can encourage social interaction while keeping the mind busy. Online forums dedicated to reading and writing can provide support and inspiration.
Gardening
You can adapt gardening to different physical abilities, and a beautiful garden instills a sense of pride and accomplishment. Learn more about gardening through local gardening clubs, community gardens, or online resources.
Sports and Exercise
Physical activities like walking, swimming, yoga, or adapted sports can accommodate various physical capabilities while enhancing cognitive function and promoting social interaction. Local senior centers or community classes can provide guidance, and online videos can offer workout routines to follow at home.
Games and Puzzles
Board games, card games, or puzzles encourage cognitive function and problem-solving while providing opportunities for social interaction with family or friends. Consider hosting regular game nights or exploring online platforms for a digital experience.
Memory Games
For seniors experiencing cognitive decline, simple memory games can provide valuable mental stimulation. Local senior centers and online platforms offer accessible memory games and resources. Creating memory books is another way to stimulate brain activity and encourage conversation.
Culinary Arts
Cooking and baking can also be adapted for different cognitive levels by choosing simple recipes or participating in cooking classes designed for seniors. These activities promote cognitive function, fine motor skills, and a sense of accomplishment. Local cooking courses, online recipes, and cooking clubs can provide support and inspiration.
Volunteering
By giving back to the community, seniors can maintain cognitive function while developing a sense of purpose and social connection. Explore local volunteer organizations or online platforms to find the right opportunity for your loved one.
Stay Active and Engaged With Senior Helpers
Incorporating mind-challenging hobbies in seniors' lives can significantly improve overall mental health and well-being. By offering guidance, support, and resources, you can help your senior loved one find the right hobbies to keep them mentally engaged and active. If you live in San Luis Obispo, Santa Maria, Atascadero, Paso Robles, or Arroyo Grande, contact us at Senior Helpers San Luis Obispo County. Our professional in-home caregivers can help your senior loved one pursue their interests by helping with day-to-day tasks, from light housework to personal care and companionship.