This month's theme is 'Celebrating Safety' and Senior Helpers of San Luis Obispo County would like to take some time this month to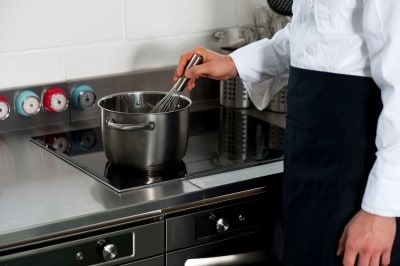 discuss ways to keep seniors safe in their homes while also aiming to help expand their independence. This week, we would like to focus on the ways to cook safely in the home to avoid cooking fires and other dangers.
The kitchen is one of the more dangerous places in the house, especially for aging seniors. People over the age of 65 live with a 2.5x greater risk of dying in a kitchen fire than the general population, according to statistics from the Federal Emergency Management Agency (FEMA). FEMA informs there are thousands of deaths and injuries in the home each year, and that kitchen fires caused from cooking are one of the leading causes. There are several reasons for this increase of risk to people over the age of 65. They might be unable to rapidly respond to a fire emergency due to physical and sensory impairment. They might be experiencing hindered mental facilities due to forms of dementia or regular aging. Sometimes medications they are prescribed effect their ability to respond to an emergency situation in a proper and timely manner. Often times, they simply don't have anyone nearby to help in the event of a cooking fire.
While all of that information may seem alarming, Senior Helpers of San Luis Obispo County would like to extend a few helpful suggestions to reduce the risk of kitchen fires in the home.
Use the correct pots and pans: People who suffer from Parkinson's disease, forms of arthritis, or other muscular degeneration will want to select the correct pots and pans for cooking. Heavy pots and pans, especially ones containing grease, are accidents waiting to happen if they are spilled. Seniors will want to aim to use pots and pans which have 2 handles, which will allow them to lift and manipulate much more easily.
Never leave food on the stove or in the oven unattended: For people living with Alzheimer's or dementia, turning the stove or oven on and then leaving while forgetting it has been turned on is a very big risk. Luckily, there are products which are available to reduce the risk of fires caused by this. There are a variety of auto shut-off appliances which can be helpful in automatically turning off the stove or oven after a specified amount of time. Some of these products can be expensive being around $300 or more, but an auto shut-off toaster oven can be found for little as $30.
Keep handles facing inward: If the handle for a pot or a pan is facing outward, it can be easily bumped into, causing the contents of the pan to spill, resulting in possible burns or fires.
Unclutter kitchen surfaces: Many cooking aids like oven mitts, towels, wooden utensils, papers, plastics, cans of oil spray, etc. can be fire hazards if left out near open burners. By keeping kitchen surfaces free of clutter, one can reduce risk greatly.
Dress mindfully: Seniors cooking in their homes will want to avoid loose-fitting clothing such as robes, garments with long flowing sleeves, etc. While these garments are especially comfortable for a senior to wear, they present a large risk while near open flames.
Have passive safety precautions in place: This sounds like it should go without saying, but many homes are burned down every year because those living in them neglect to regularly check and replace smoke detector batteries. Make sure there is a small fire extinguisher in the kitchen become familiar with how to use it. If necessary, document instructions for use and tape it to the side of the extinguisher.
Aging presents many challenges, but seniors should not need to give up their love of cooking simply since they have lost a bit of mobility or mental faculties. The answer is to provide a comfortable and safe environment for cooking.

If you would like to learn more about dependable in-home help for the elderly and the many benefits of professional senior care at home or dementia and Alzheimer's care, call Senior Helpers of San Luis Obispo County to speak to a senior care specialist today 805-470-1594! The compassionate senior care specialists at Senior Helpers can also guide you through the process of receiving the Veterans Administration Aid and Attendance Benefit if your elderly loved one is a veteran.  In-home senior care and in-home assisted living allows your loved one to stay in the comforts of their own home for as long as possible while receiving the level of care they need. Senior Helpers of San Luis Obispo County provides a wide range of services including Alzheimer's and dementia care, personal assistance, companionship, and so much more to all areas of San Luis Obispo, Paso Robles, Atascadero, Arroyo nde, Cambria, and surrounding areas.