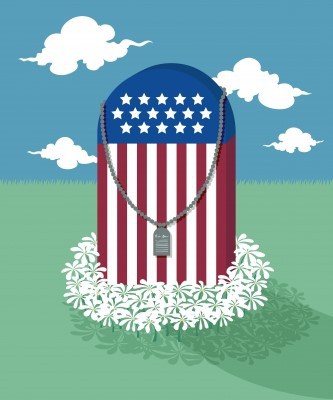 Senior Helpers of San Luis Obispo County would like to wish you and your family a very happy Memorial Day. We proudly salute all of the men and women currently in service and all of our veterans. We truly owe so much to them! We encourage you and your loved ones to take a moment of silence in remembrance of all the service and sacrifice made for this country by our enlisted men and women, and our veterans. We would also like to extend sentiments written by the Secretary of Defense, Ash Carter. We feel Mr. Carter's words ring true with our own thoughts and feelings.
 "To the families of our fallen patriots: we lack the words to describe what you feel on Memorial Day, because try as we may – as we must – we can never fully know it. But we do know what your sacrifice means to us, to our country, and to a world that still depends so much on America for its security.
As our nation remembers the service and sacrifice of previous generations, we as a people recognize that the men and women serving in uniform today – active-duty, Guard, and Reserve – are as humble, patriotic, and selfless as any generation that has come before. They, alongside their families, continue that tradition of service to this country that makes our military the finest fighting force the world has ever known. Nearly 200,000 of these soldiers, sailors, airmen, and marines are currently serving beyond our shores, protecting us far from home, and will not be able to spend this holiday with their loved ones.  Today, and every day, we honor them and their families with our heartfelt thanks and support." - Ash Carter, Secretary of Defense
            Also, below we have included a link to a page containing some of the most touching and amazing Memorial Day speeches given throughout American History. We feel they are all worth taking the time to read, so please enjoy them, have a happy memorial day, and thank all the veterans and men/women of service you may know for their tireless sacrifice to make this country great!
             If you would like to learn more about dependable in-home help for the elderly and the many benefits of professional senior care at home or dementia and Alzheimer's care, call Senior Helpers of San Luis Obispo County to speak to a senior care specialist today 805-461-5892! The compassionate senior care specialists at Senior Helpers can also guide you through the process of receiving the Veterans Administration Aid and Attendance Benefit if your elderly loved one is a veteran. In-home senior care and in-home assisted living allows your loved one to stay in the comforts of their own home for as long as possible while receiving the level of care they need. Senior Helpers of San Luis Obispo County provides a wide range of services including Alzheimer's and dementia care, personal assistance, companionship, and so much more to all areas of San Luis Obispo, Paso Robles, Atascadero, Arroyo Grande, Cambria, and surrounding areas.