As a senior citizen, your health is an important priority, and being aware of small things that can be done to bolster and support it can have a tremendously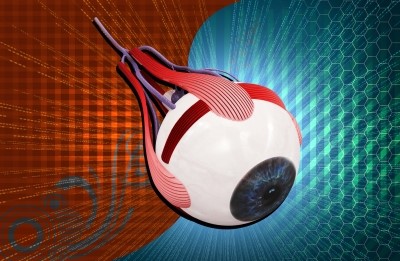 positive impact in one's life. This month's theme is about maintaining healthy vision, and Senior Helpers of San Luis Obispo would like to extend to you some of the tips and tricks advised by medical professionals to promote and maintain this.
Eating the Right Foods: Nutrition is certainly a key component to maintaining vision health. For an eye-healthy diet, a person will want to be choosing foods which are rich in antioxidants like vitamins A and C. Some of these foods include leafy-green vegetables and fish. Many foods (especially fish) are found to contain important omega-3 fatty acids that are beneficial to the overall health of the macula, a portion of the eye which is responsible for central vision. Low-consumption of antioxidants, as well as an over-consumption of alcohols and saturated fats could possibly create free-radical reactions that can harm the macula. High-fat diets could also cause deposits that constrict blood flow in the arteries. The eyes are quite sensitive to this, because of the tiny size of the blood vessels that provide them with blood.
Avoid Smoking and Being Around Smoke: It has also been observed that smoking has a negative impact on a person's eye health (as well as the overall health!). Smoking exposes your eyes to high levels of oxidative stress. While the connection has not been clearly identified, it's a fact that smoking increases your risk of developing a variety of conditions that negatively affect eye health.
Exercise Regula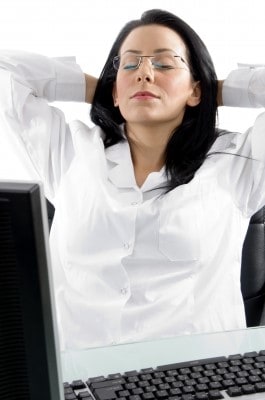 rly: A very important factor which many might not consider for maintaining vision health is exercise. Keeping as much activity in one's lifestyle is important since it supports and promotes healthy blood circulation. With a healthy circulatory system, oxygen levels in the blood provided to the eyes increases, and thus promotes the removal of built up toxins so the liver, kidneys, and lungs can work to excrete them from the body.
Wear Protective Accessories: Being outside on a warm and sunny day can have one feeling fantastic– but it can also be quite strenuous on the eyes. Wearing sunglasses that block harmful ultraviolet (UV) rays, and also wearing a hat with a wide brim will reduce the amount of UV radiation creeping in from the sides of your sunglasses.
Tips for Protecting Eyesight While Using a Computer: Professionals advise that after several hours looking into a computer's screen, a person could experience the same kind of repetitive stress in the eye muscles that a keyboard can cause in wrists. To protect against this, do the following:
Make sure your computer screen sits around 20" to 24" away from your eyes if possible.
Keep the top of one's computer screen just slightly below eye level.
Aim to minimize the space between your computer screen and any documents being referenced while working.
Take steps to adjust room lighting to minimize the glare on your computer screen.
Perhaps the most important tip is to take a break every 15 minutes to focus on a distant object.
Lastly, aim to use sterile lubricating eye drops, or blink frequently while working, to keep the eye functioning as it should.
Eye Injuries: If you sustain an injury to your eye, you should ALWAYS seek immediate and professional medical attention. However, not all eye injuries come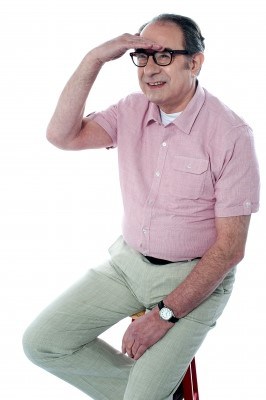 from sudden trauma to the eyes. If you notice or experience any of these symptoms, it could mean you are living with a serious eye injury to have addressed by medical professionals:
Obvious pain and/or vision problems.
Cut/torn eyelid.
One eye not moving as completely as the other.
Unusual pupil size/shape.
Blood in the white of the eye.
Foreign objects imbedded in the eye.
Foreign objects under the eyelid which are not easily removed.
By employing as many of these tips and tricks into your daily activities and lifestyle as possible, you will find that healthy vision is easy to maintain!
If you would like to learn more about dependable in-home help for the elderly and the many benefits of professional senior care at home or dementia and Alzheimer's care, call Senior Helpers of San Luis Obispo County to speak to a senior care specialist today 805-461-5892! The compassionate senior care specialists at Senior Helpers can also guide you through the process of receiving the Veterans Administration Aid and Attendance Benefit if your elderly loved one is a veteran. In-home senior care and in-home assisted living allows your loved one to stay in the comforts of their own home for as long as possible while receiving the level of care they need. Senior Helpers of San Luis Obispo County provides a wide range of services including Alzheimer's and dementia care, personal assistance, companionship, and so much more to all areas of San Luis Obispo, Paso Robles, Atascadero, Arroyo Grande, Cambria, and surrounding areas.

Citation for information in this blog post: Link