Why is making healthy nutrition choices important for caregivers? Because you cannot take care of someone else if your own health is suffering! Caregivers tend to be self-sacrificing people and may neglect their own health as they get involved in caring for another. The stress and odd hours of caregiving can also be a detriment to the health of the caregiver. That stress also makes it easy to fall into unhealthy habits, like mindless eating or consuming a lot of fast food. It is critically important for the caregiver to keep themselves healthy for their own sake and that of the person that depends on them. Caregivers should keep their eating focused on good nutrition in order to keep themselves healthy. The following points help guide healthful eating for caregivers.
Keep an eye on portion size.
Portion size is important, especially when it comes to meat and dairy. The infographic below from GuardYourHealth.com is a good visual representation of appropriate portions.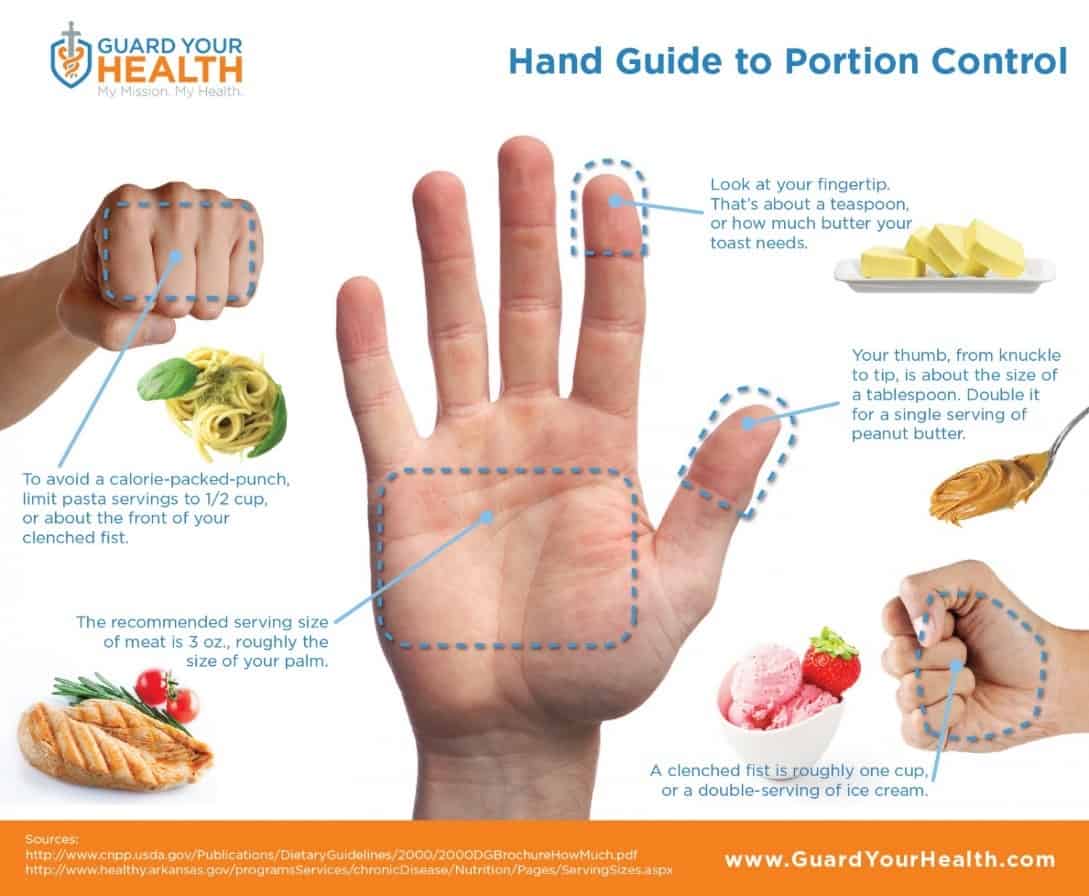 Fill half your plate with a rainbow of fruits and vegetables.
Aim for a colorful mix when it comes to fruits and veggies. Start with what is in season, then add in your favorites. A colorful mix promotes an array of vitamins and minerals, one of the foundations of good nutrition.
When eating grains, try to avoid refined grains and choose whole grains, like oatmeal, instead.
Whole grains have more fiber and nutrients than refined and are digested slower, which makes you feel full longer.
Read food labels.
Check the amounts of saturated fat, sodium and added sugars. Processed foods often sneak in additives that add calories and salt. If a food label has several ingredients that you cannot pronounce or understand, there is a strong chance that food isn't good for you. See this helpful breakdown of a food label to understand each section - http://www.fda.gov/Food/IngredientsPackagingLabeling/LabelingNutrition/ucm274593.htm
The work of a caregiver is so important but caregivers have to take care of themselves first and foremost. Nutrition is a cornerstone of good health and something we make choices about every day. It pays to make wise nutrition decisions for long term health and vitality.
If you would like to learn more about dependable in-home help for the elderly and the many benefits of professional senior care at home or dementia and Alzheimer's care, call Senior Helpers of San Luis Obispo County to speak to a senior care specialist today 805-461-5892!   The compassionate senior care specialists at Senior Helpers can also guide you through the process of receiving the Veterans Administration Aid and Attendance Benefit if your elderly loved one is a veteran.   In-home senior care and in-home assisted living allows your loved one to stay in the comforts of their own home for as long as possible while receiving the level of care they need. Senior Helpers of San Luis Obispo County provides a wide range of services including Alzheimer's and dementia care, personal assistance, companionship, and so much more to all areas of San Luis Obispo, Paso Robles, Atascadero, Arroyo Grande, Cambria, and surrounding areas.
Article adapted from: http://www.choosemyplate.gov/