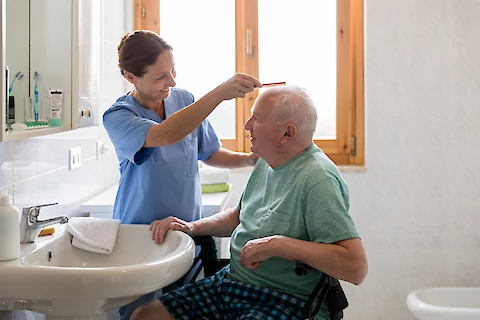 Safety Precautions to Reduce Falls in the Bathroom for Seniors
January is National Bath Safety Month and during this time it's important to recognize and bring attention to dangers in our homes, specifically the bathroom. Practicing bath safety is crucial for preventing yourself or a loved one from falling or hurting themselves while in the shower or tub. Each year, thousands of seniors have bathroom-related slips and falls that result in a visit to the emergency room. Seniors aren't the only ones who suffer injuries; children and adults of all ages can have slips or falls while bathing.
Risk of Not Having Bath Safety
According to the National Institute of Aging, 80% of falls occur in the bathroom. Every 11 seconds, an older adult is treated in the emergency room for a fall. A senior's health is not the only factor that determines a potential fall, environmental challenges can also interfere with a senior's ability to take a bath safely. 
Safety Precautions to Take
Installing grab bars or gripping tape on handrails
Using mats or anti-slip bathtub coating for floors to prevent slipping and falling
Shower chairs, benches, and safety handles installed
Bathing items such as towels, shampoos, and soaps within reach for accessibility
The Bottom Line
Senior Helpers San Jose is here to help your loved ones live their best life at home while maintaining their independence. Our exclusive LIFE Profile assessment tool provides a holistic view of the risks and factors that influence a loved one's ability to age in their own home. Combined with our proven in-home care programs and trained caregivers, Senior Helpers is leading the way to better outcomes for our clients. If you're interested in helping your senior loved ones safely age in the comfort of their home, then contact us today.